Food very good but the atmosphere could be improved
Related Links

Restaurants in Brentford

The Weir Bar & Dining Room
22-24 Market Place, Brentford, Middlesex, TW8 8EQ
Tel: 020 8568 3600
Locate on map
The Weir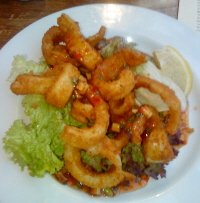 Deep fried squid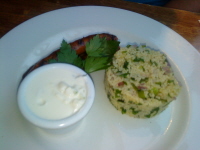 Merguez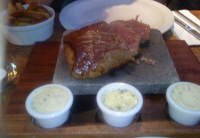 Chateaubriand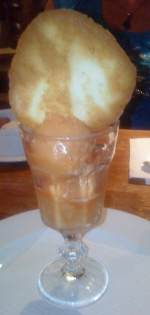 Melon sorbet

Participate
Sign up for our free newsletter

Comment on this story on the
The Weir was once a pub called the White Horse and is now a bar and dining room situated just off Brentford High Street behind the Magistrates Court. Not inspiring directions, but its spacious and peaceful garden looks over the river Brent (not the canal) where there is a small weir, hence the name.

We went for an evening meal and I had deep-fried squid with a mixed-leaf salad and homemade chilli jam. The squid were cut thicker than they often are when dining out and this meant that they actually tasted of squid and were nice and moist rather than just rubbery and battery. My companion had char-grilled merquez sausages with Mediterranean couscous and tzatziki sauce. Merguez are a wonderful spicy sausage that come in a variety of tastes, sizes and spiciness. These were quite mild, piquant and tasty rather than overdone and were beautifully complimented with the creamy tzatziki and the very herby and flavoursome rice. We swapped dishes half way and continued happily through our starters.

We decided to have the Chateaubriand between the two of us as a main course. This was served on a hot stone. It was presented to us uncut without the waiter then offering to slice it for us which should have been part of the service. We had handmade chips which were perfect: crispy on the outside and melt in the mouth inside. It was accompanied by either garlic butter or a blue cheese but we sneakily asked for both. They were both very tasty, with the blue cheese sauce tasting of blue cheese but having them hot would have been preferable in my opinion as the large slab of beef does go cold before it's finished even kept on a hot stone. It could also have done with a salad garnish at the very least. However we enjoyed it thoroughly and the quality of the beef was exceedingly high. It was also perfectly cooked as desired.

To drink, we declined their wide wine menu to go for the Belgian Leffe. This is a perfectly kept Leffe which happily accompanies any meal which is a pleasure to drink. It's not cheap at £2.90 for a half but it is worth every single penny. Other beers are available but the Leffe must be tried.

We had pudding. We didn't need it. But in the interest of a fully comprehensive review we had dessert. I had a mango sorbet with a beautifully crunchy sweet biscuit. The sorbet was delightfully tangy and a little bit sweet and presenting it in a tall glass felt like a special treat. My companion had home made ice cream, choosing strawberry, butterscotch and rum and raisin. The strawberry was very good; the second scoop was mocha which was also very good although not what was ordered. We were trying to work out what the third scoop was, rum and raisin or butterscotch. The discovery of a single raisin suggested the former, but either way it was not a satisfactory taste.

The bill for this three course meal came to over £80. The standard of the food was very high despite minor quibbles however there's a 'but' with The Weir.

The atmosphere isn't quite right. Sitting in the dining room, we're not quite relaxed and comfortable. The staff leave you in peace without hovering, but then aren't around when you want them and you feel like you're troubling them when you go find them. They are polite and charming but something in the layout, maybe having the dining room separate from the bar, made us feel cut off, and the lacking warmth in atmosphere means that we didn't enjoy the meal as much as we should. It's a tad pretentious and a tad uncomfortable. This is why The Weir is not as packed as the food merits.
Kath Richardson
September 27, 2010