Out with the old Italian food and in with the new and improved
Related Links

Restaurants in Brentford

Siracusa Ristorante & Pizzeria, Unit 2, Brentford Lock, High Street, Brentford, Middlesex TW8 8LF - Tel: 020 8758 0998
Locate on map
Siracusa menu on our forum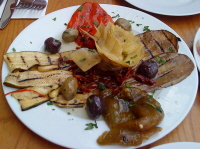 Antipasto Vegetariano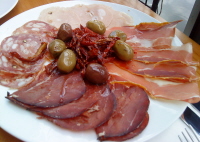 Salami Italiani Misti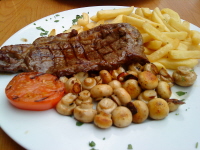 Steak and Chips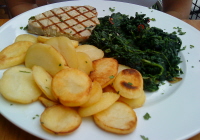 Tuna with spinach and potatoes


Participate
Sign up for our free newsletter

Comment on this story on the
Siracusa has replaced Prezzo as the Italian restaurant by the river Brent l where you can lunch on the balcony in the scorching heat as we did, overlooking the Brent river, the canal, the Holiday Inn and the swans and ducks messing about on the river. Children are still positively welcomed with a supply of high chairs, enthusiasm and understanding.
We shared starters, just to save making an extra decision, choosing Antipasto Vegetariano and Salami Italiani Misti. Both were a full plateful: the Italiani Salami was a good selection of salamis with a good strong taste. The vegetarian platter had a plentiful selection of roasted vegetables: courgette, aubergine, peppers and artichoke. Both plates had very tasty sun dried tomatoes and a good portion of olives all with olive oil drizzled over (slightly too much for my taste but I don't like oil over food). We had two servings of focaccia bread to go with this and mop up the juices, cooked with plenty of rosemary that made it warm, crisp and well flavoured.
To be honest, we could have skipped the main course and had dessert instead. One helping of foccaccia would have been plenty. We decided to both have the specials so had no chance to test out the pizza. However we did have a good look at the dishes being served on the other tables and decided that the pizzas looked colourfully attractive and fresh and were of a good size, as were the pasta dishes seen. There was a gentleman we talked to afterwards who enjoyed a good looking dish of mussels, something I hesitate to order if I don't know what the chef is like.
I had beef steak and chips with mushrooms; a simple dish but the steak was cooked as desired, tasted of beef and the mushrooms mushroomy and slightly crispy. The tuna steak was also of high quality and was accompanied by lightly sauteed potatoes and a good portion of spinach well seasoned with a hint of chili and onion.
The menu had a good choice of wine from the inexpensive upwards. We had 3 large Peronis which went down very smoothly in the heat but at £5.95 each they are not cheap. So the meal came to £77 for two courses for two, including service charge and £18 on beer which is certainly pricier that Prezzo. The food was of a higher quality although the portions were possibly over generous, not that I'm really complaining about that.
On our way out after our very leisurely meal we bumped into the owners, Ibrahim Unsal and Serap Schulze, enjoying their own lunch at a table on the piazza (did I mention it was sunny!). It is always reassuring to see restauranteurs eating their own food.
Kath Richardson
July 15, 2010