Mouthwatering, cheap and they deliver
I've heard some very good things about Sami's Spice in Brentford High Street so on one of those wintery evenings when only a curry will fit the bill, the two of us decided to give it a go and get a take-away. And I wish I hadn't left it so long, it's true what people say, Sami's Spice really does serve up great food.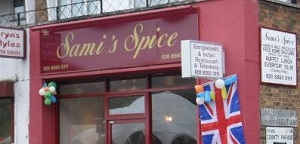 The food arrived piping hot in about 30 minutes.
The menu isn't trendy modern but it's not old fashioned either. Much was familiar: tandoori, balti, korma, bhuna, vindaloo, biranies, etc. The only thing that was new to me was the Handi selection which is a house speciality with chicken, lamb, king prawn or vegetables cooked in the chef's own sauce made with fresh tomatoes, coriander, garlic and special herbs from Bangladesh.

Sounds delicious but I didn't try it this time, there's too much else to tempt.

As a vegetarian I'm always pleased to see choices like paneer that goes beyond the old staples. In all the categories there's a choice of various meats and seafood and in most of them there's a vegetable option – also great news for vegetarians. There's also a selection called Sami's Specialities which includes butter chicken, various masalas, jalfrezies, passandas, and jeeras. There's plenty to choose from here.

With the starters you can pick from sheek kebab, chick or lamb tikka, onion bhaji and more. We started with vegetable samosa and aloo chat puri, a sort of pancake with potatoes. Sami's portions are generous so one puri between the two of us would have been enough for starters and on its own it would make a good lunch for one.

I love samosas and am happy to report that these were bang up to standard and very morish but the puri was particularly good. A bit heavy on the carbs perhaps but tasty enough to make it worthwhile.

To follow we pushed the boat out with tandoori mixed grill, vegetable dansak, sag panir, pilau rice and a garlic naan.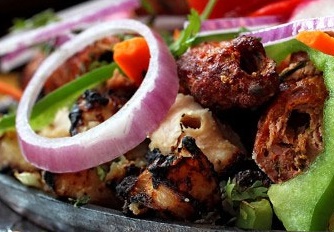 The tandoori mixed grill is a carnivore's delight and incredible value for only £8.95. It's great big plate of tandoori chicken, chicken tikka, lamb tikka, sheek kebab, with naan and salad. The chicken was delicious and tender but the lamb tikka, which also tasted lovely was a bit on the chewy side.

The dansak was absolutely scrumptious, I could eat it every day. It's lentils served in a hot and sour sauce. I don't know what it was spiced with but I just loved it. What more can I say?

Let's not forget the side dishes, because they had more than just a supporting role and both were great dishes in their own right. The paneer was great big lumps of Indian cheese in a rich spinach sauce. The chick peas were just as they should be as was the garlic naan and the pilau rice which came without the westernised yellow dye.

If you've still got room after eating all that, which we didn't there's a selection of ice creams for desert. These include the intriguing named Funky Pie, Copa Limon and, of course, Kulfi.

The other great thing about Sami's is that it's BYOB. You can take your own wine or beer and there's no corkage charge.

Our meal came to an unbelievable £30.40 and there was so much of it we saved some of it to eat over the next couple of days.

Sami's Spice is open seven days a week, including bank holidays. Home deliveries are free on orders over £15 within a three mile radius.

Penny Flood
December 11, 2013