Italian food with a Summer offer
Related Links

Restaurants in Brentford

Prezzo

Prezzo is at Unit 2, Brentford Lock, High Street, Brentford, TW8 8LF
020 8758 0998
Locate on map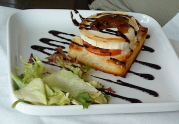 formaggio di capra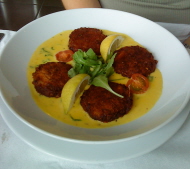 Involtini di granchio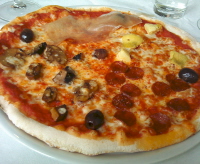 Quattro Stagioni


Participate
Sign up for our free newsletter

Comment on this story on the
Prezzo's is one of the very few restaurants in Brentford where you can dine out overlooking the waterside, with a lovely view of both the Brent river and the Grand Union Canal. On the sunniest days of the year the tables are placed out on the balcony and you can dine with the swans and ducks a few feet away.
My companion and I wandered into Prezzo's for lunch and were warmly welcomed by the manager on entry. The restaurant is airy and spacious with other tables' conversations remaining private. Children are positively welcomed with a supply of high chairs and enthusiasm.
I started with gamberoni piccante, 4 prawns in a very rich and tasty garlic, chilli and baby spinach tomato sauce, with lightly toasted foccaccia bread on the side. The sauce was just hot enough to be exciting without overpowering the taste of prawns. My companion had formaggio di capra, grilled goats cheese, plum tomatoes, caramelised balsamic onions all on top of foccacia bread with a balsamic glaze drizzled over the plate looking just like chocolate sauce. The presentation was beautiful and a mouthful provided a perfectly balanced mix of tastes and textures.
For the main course I had a Quattro Stagioni pizza, four quarters with pepperoni, prosciutto ham, artichokes and mushrooms. The pizza base was thin, hot and smoky from the fire which is open to view and the mushrooms were still juicy. My guest had Involtini di granchio, a dish of four crab cakes in creamy (and very yellow) saffron sauce, with a touch of garlic, fresh rocket and cherry tomatoes. My companion easily traded the accompanying mixed salad for a small Caesar salad. The crab cakes were subtle and very light, and the delicate sauce added moisture and contrast.
We managed to squeeze in puddings, settling for a toffee roast banana cheesecake, roasted bananas and toffee on a crunchy biscuit base topped with cream and a milk chocolate fudge cake consisting of dark chocolate sponge filled and topped with a layer of fudge with crushed chocolate brownie and vanilla ice cream on the side. These are both pudding which are very easy to get wrong, with stodge and sickly sweet taste being readily available. Not here though, a pleasurable mix of chocolate tastes and textures, crunch and smooth, sweet but not overpoweringly so made the puddings a happy conclusion to our meal.
We had a glass of Pinot Grigio Blush and a glass of Merlot alongside our meal.175ml glass cost around £4 with 250ml for just over £5. The wine list is small but select with prices ranging from £12 to a modest £20 with champagne also on offer for a little bit more.
On Sunday to Thursday over the Summer Prezzo's are offering a 2 for 1 offer on main courses only so our three course meal rounded off with coffee came to under £50 for 2, a very reasonable price for an excellent and leisurely meal.
Kath Richardson
September 22, 2009