Well Worth a Visit to This Hidden Gem
The Old Fire Station has been substantially refurbished and re-opened its doors a few months ago with a Cuban Street Bar on the ground floor with a wide selection of cocktails, live Cuban music with bar snacks available. Cocktails are not cheap, but given that each one is made by hand individually from fresh ingredients they are fairly priced.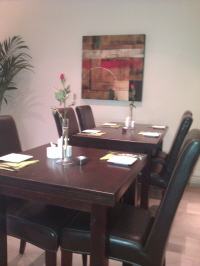 Upstairs however is a completely different affair, with a quiet Persian Restaurant, unique in Brentford, selling quality food, with Iranian music quietly playing in the background and several of the knowledgable and pleasant staff hailing from Iran.
I started with Jumbo Prawns and Scallops Skewers served with a tangy lemon sauce. The prawns were slighly crunchy and the scallops just cooked being soft rather than rubbery as can happen. Both were perfectly cooked with a very tangy lemon sauce which could not be described otherwise. A sweet chilli sauce also accompanied it which was nice but nothing out of the ordinary.
My companion had Mirza Ghazemi which is grilled aubergine, tomatoes, eggs and garlic served with bread. This was light and devoid of grease. The individual flavours were distinguishable, including the fact that the aubergine had been grilled, and the accompanying flat bread was beautifully crispy and a genuine treat all by itself. It was possibly too large a portion without some salad to provide an alternative taste.
He followed on with Gheimeh: lamb stew with split yellow peas, dried limes cooked in a cinnamon and tomato sauce, topped with matchstick chips served with saffron rice. The chips, swimming on top were still crunchy on delivery; the lamb was very tender and the slow-cooked stew tasted strongly of tomatoes with a slight hint of spice .Rice was topped with saffron with a sprinkling of mint. The portion of stew could have been a bit bigger.
I had Barg, a tender kebab of marinated lamb fillet served with saffron rice and green salad. The lamb was indeed very tender and moist tasting beautifully of, well of lamb. The accompanying grilled half tomato was done to perfection: chargrilled on the outside and soft and gooey on the outside. I could have done with the other half of it. Neither of us managed to eat all the rice; the portions of which were somewhat large.
My guest was persuaded by the waitress to try Faloodeh, persian sorbet threaded with rice noodles, flavoured with lemon juice. This was slightly crunchy noodles that tasted very faintly of rosewater and lemon juice. This was a pallette cleanser all by itself but it really did not have much taste, more a mixture of textures with a hint of sweetness.
I made the better choice of home made pancake stuffed with vanilla ice cream, topped with almonds and orange syrup. The orange syrup was very light, with a delicate flavouring of orange that made it a perfectly balanced pudding that rounded off the meal.
We finished off with coffee that we could smell as it was freshly ground. It was a good flavoursome Arabica coffee that came from http://www.caffebristot.com
I had a nice glass of Shiraz for £4.50. There is a small wine list, most of which is reasonably priced at £14.00 a bottle with the only draught beer being Estrella at £3.80 a pint. Starters are around £3-5 each with main courses between £7-12 producing a reasonably priced meal.
The only fault that the Persian Restaurant has is that no-one knows it's there as it sits very quietly above the Cuban bar with limited physical advertising outside the building. If you would like a good meal in a relaxed setting then do pay them a visit.
Kath Richardson
July 19, 2011