For a voyage of taste discovery
Related Links

Restaurants in Brentford

Fat Boys Thai

Fat Boys Thai is at 68 High Street, Brentford, TW8 0AH
020-8569-8481 or 020-8232-8028
Locate on map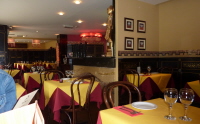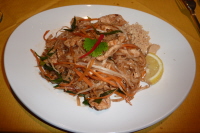 Pad Thai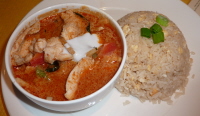 Red Curry

Participate
Sign up for our free newsletter

Comment on this story on the
Fatboys is not in the most beautiful locations on a main road although very practical but once you've walked in through the doors you forget this.
The decor inside is engaging, with the combination of yellow and burgundy table cloths providing a warm yet bright atmosphere. The walls are covered in dark wooden panelling contrasted with painted gold motifs and mosaics, items you think should clash but don't.
The menu offered is simple yet extensive, with a 2 course meal for just under £7 or a take away lunch box for £4.95. Most main courses are offered with chicken, pork, beef or vegetables so it is easy to make your own selection. Quite a few people came in for a fast lunch before getting on with a clearly busy day but my companion and I settled in for a nice leisurely peaceful lunch watching other guests arrive and depart. It is also a place where people are happy to lunch on their own, something that's not always possible.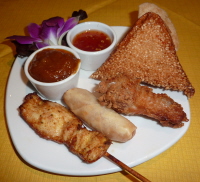 I had a Mixed Starter, with Thai spring rolls, prawns on toast, chicken wings and satay. Although the spring rolls were fairly ordinary, the toast tasted more of prawns (prawnier?) than eaten elsewhere and were more visible. The chicken wings had a tasty crunchy coating which made them more interesting to eat and the satay had a liberal helping of dip to enjoy. My guest had Tom Khan Hed, a vegetarian creamy coconut soup with mushrooms, lemon grass, galangal and lime leaves. Never having heard of galangal we asked and discovered it to be a Thair version, more or less, of ginger, with slices of it in the soup being a bit crunchy and woody, with a spicy explosion when bitten into. The lime leaves also smelt very strongly of lime and the soup had many different individual flavours to discover and enjoy.
For our main course we had Pad Thai and Red Curry, both with chicken. My Pad Thai was noodles, with bean sprouts, peanuts, egg and spring onions. The peanuts were crunched on the side so could be mixed in or not as desired. The noodles were slightly sweet and again, the flavours were strong and individual but complemented each other so the dish was savoured slowly. My companion's Red Curry was cooked in coconut milk with sliced bamboo shoots mixed with sweet basil on rice, with egg fried rice as an alternative. It was equally well flavoured and slow to disappear.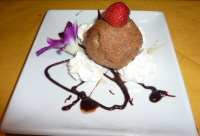 We forced ourselves, in the name of this review of course, to test out the puddings. A deep fried ice cream was contained in a thin softshell made out of wholemeal flour which contrasted with the ice cream inside for my guest whilst I had apple fritters with ice cream where the apples were crunchy inside the slightly sweet batter. We rounded off our meal with an iced tea that was very very sweet and a coffee, having had a reasonable glass of wine alongside our meal. A glass of rose for my companion and one of Gerard Bertrand's Sixieme Sens for myself with 175ml - 250ml glass costing around £4- £5.
Fat Boys offers a fresh mix of flavours at a very reasonable price and is also to be found in Chiswick, Ealing Broadway and Richmond.
If you have eaten here why not add some feedback to Fat Boys Thai listing in our service directory.
Kath Richardson
May 25, 2011