'New to Kew' The Stable serving gourmet Dorset pizzas and over 80 ciders
A new pizza restaurant with West Country origins is to open in Brentford this month although its owners may have made a gaffe by promoting it with the slogan 'New to Kew'.
The Stable is due to start serving customers at noon on 29 July and is promising handmade pizzas and more than 80 ciders. They source ingredients from the West Country and this location will be the fifteenth venue for the chain founded in Dorset in 2009.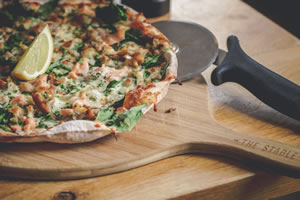 Owners Nikki and Richard Cooper say they try to ensure that their philosophy stays strong across all locations, and that the Brentford restaurant at 8 Kew Bridge Road, will be no exception.
Nikki says "We are proud to be opening our second London restaurant in such a beautiful Thames-side location, where our customers can eat al fresco on our huge riverside piazza. We hope that the residents of Brentford and Kew Bridge will love our freshly made delicious pizzas or nutritious salads and will see it as a place to hang out with friends and family."
The initial promotion of The Stable has already ruffled the feathers of some Brentford locals with some of the material seeming to suggest that the restaurant is in Kew. After some complaints the information on their web site appears to have been updated although there appears to be a residual reluctance to admitting being in Brentford.
Their menu will honour local landmarks, featuring pizzas such as The Hounslow Herbivore and The Kew Palace Pecker to highlight the setting of the new restaurant. The Stable brings with them a variety of cider from in and around the West Country, and plans to offer ore than 80 types. They will also feature a full wine list, as well as an array of craft beers, pressed apple juice and fresh brewed coffee.
The restaurant will feature long communal tables, a stripped back style of the decor and open kitchens.
The restaurant will host Tuck In Tuesday – with selected pizzas, side salad and a drink for only £10.
The restaurant is now taking bookings on 020 8568 8667.
July 22, 2016