Lease on Brentford pub up for offer but you pay for refurbishment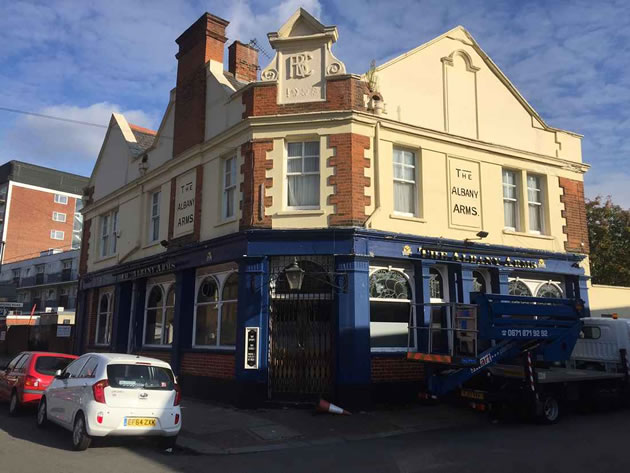 A new leaseholder is currently being sought for the Albany Arms on Albany Road, Brentford. The pub, which is currently closed, is being marketed by property agents Fleurets who are not asking for a premium to be paid but the premises does require substantial refurbishment.
There was a proposal to develop the site into flats. We have asked the agent to confirm whether this is no longer proceeding.
Brentford Football Club's Griffin Park Stadium is approximately 300 metres away and the agent points to the development around the area which will lead to approximately a thousand new homes once the football ground is redeveloped.
The Albany Arms is a substantial and attractive Victorian two storey detached building under multi pitch tiled roofs with three gables to the return frontage. Glazed tile clad and rendered to the ground floor with exposed brick and similar painted rendering to upper parts. There is an enclosed trade garden at the rear, with street access from Wilkes Road. On the first floor there is a self-contained bed/sitting room with further room (could be bathroom or kitchen) three further double bedrooms, living room, bathroom. This property is not a listed building but does fall within St Pauls Conservation Area.
A minimum level of capital of £30,000 would be required to cover the estimate of the cost of stock and glassware, stamp duty, one month's rent and the value of the trade inventory. Also included within this figure is an allowance for legal fees, stock takers, and some additional working capital.
However, it does not include the cost of refurbishment which is likely to be substantial.
An open house viewing has been arranged for Monday 12th December between12:30pm - 1:30pm. No appointment is necessary, just turn up between these times and representatives of the agent will show you around and answer any questions you may have.
For further details contact James Davies 020 7280 4700 or on londonagency@fleurets.com.
December 9, 2016