An opportunity for customers to sample and purchase many truly exceptional wines

Online wine retailer Wine Sensations is hosting a wine tasting evening at The Griffin, Brook Road South, Brentford, between 5.00 – 9.00 pm on the 21st October. Admission to the tasting is free.

The event will give the opportunity for customers to sample and purchase many truly exceptional wines, including champagne and sparklers, superb table wines from all around the world and some fantastic pudding wines and digestifs, all of which are exclusive to Wine Sensations. There will be wine available to purchase and take home on the night, or you can place an order for delivery, all at special prices.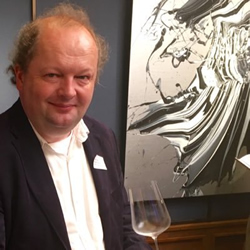 Founded by wine expert and importer Richard Dudley Craig (who lives in Brook Road South), Wine Sensations aims to bring extraordinary wine to adventurous wine lovers. As a specialist with a particular love of wines from the South of France, Richard's policy is that he will not buy wines that he does not want to drink himself, and hopes to excite and surprise a growing band of enthusiasts who like to 'drink outside the box' – people who like to try something delicious and different.
Many of Wine Sensations' wines are made in astonishingly small quantities - far too small and uncommercial for most wine merchants and supermarkets - by independent winemakers who are passionate about their vines, their vineyards and, most importantly, their products.
The majority of the wines are handmade, organic and biodynamic and offer an experience that cannot be matched by the bulk products that dominate the supermarket shelves. This is where Wine Sensations' advantage comes into play: in other words, they can bring you the wines that other retailers simply can't.
And, by importing directly from the winemakers, they are able to offer these stunning wines at incredibly reasonable prices.
Richard will be on hand all evening to answer questions, offer advice and recommend food pairings – especially useful in the run-up to Christmas.
As an independent merchant, Richard's aim is to provide his customers with what he wants for himself - unusual and hard-to-find wines of character, charm and IMMENSE drinkability.

Advertisement
October 10, 2016