Trust-backed football team encourages participation from all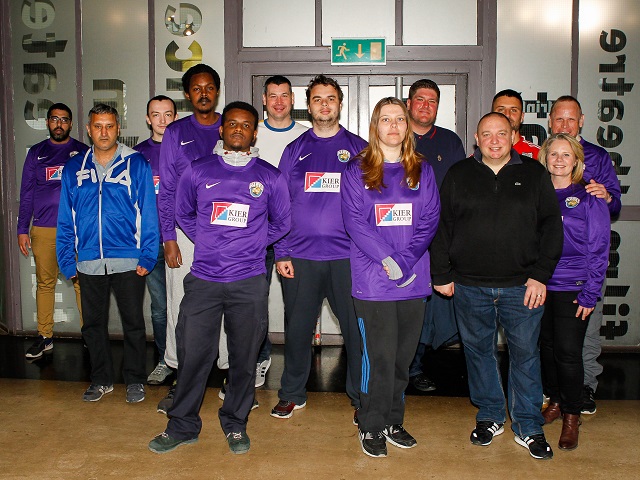 Hounslow Hawks Football Club, managed by the Occupational Therapy Service at West London Mental Health NHS Trust and partly-funded by the trust's charity, has won a 'Best Inclusive Project' FA Community Award for encouraging participation from all regardless of age, sex, race or disability, and championing social inclusion schemes within the Hounslow community. Hounslow Hawks provides football as therapy for patients and service users of the Trust who are living with a mental illness, and contributes to their well-being.
The FA Community Awards recognise and reward grassroots clubs, coaches and volunteers across the country that keep the spirit of football alive. Categories are initially judged at a county and regional level before a national shortlist is announced – Hounslow Hawks will now represent their county, Middlesex, at the National Awards.
Hounslow Hawks have been running under the guidance of the Trust's Occupational Therapy Technician Michelle Nielsen for 10 years. Service users receive weekly football training and attend monthly league matches, and the project aims to reduce stigma surrounding mental health, maintain psychological wellbeing and help prevent re-admission to acute services.
Michelle Nielsen, Occupational Therapy Technician at West London Mental Health NHS Trust, said: "We are completely overwhelmed that Hounslow Hawks have won 'Best Inclusive Project' at the FA Community Awards, and could not feel more proud of this very special achievement. Our service users will be thrilled as being a part of Hounslow Hawks has been incredibly important in supporting their mental health recovery and development.
"This win has given us a huge boost and will push us to continue the fight against mental health stigma. Football has become more than just a game for our community, it is now a way to relax, develop new skills and feel less alone."
Elizabeth Rantzen, Non-Executive Director and Chair of West London Mental Health NHS Trust's charity committee, said: "It is absolutely fantastic that a project funded by the Trust's own charity has flourished and now won at both county and regional level at the FA Community Awards. We are ever more confident that our inspiring team of service users will impress the panel at national level, and continue the conversation around mental health.
"Our win proves that community-based initiatives like Hounslow Hawks are often the crucial thread tying physical and mental health together, which in turn gives our service users the support and motivation they need to recover."
Over the last year, Hounslow Hawks have been receiving coaching from Brentford Football Club Community Sports Trust. The club will now be focusing on their next pilot, which is running in conjunction with Brentford Football Club Community Sports Trust, Middlesex Football Association and Hestia. It will see Hounslow Hawks further its reach and welcome anyone in the community to its grounds for 12-18 weeks, offering a mix of football and socialising from 8 June at Osterley Goals Centre.
The national winners of the FA Community Awards will be chosen by a judging panel featuring 1966 World Cup winner and McDonald's Director of Football, Sir Geoff Hurst MBE, the first and only player ever to score a hat trick of goals in a World Cup Final.
June 1, 2017