Dismisses claims made by Steve Curran in his police statement
Paul Slattery, the anti-wheelie bin campaigner, has made a strongly worded criticism of Hounslow Council's leader after harassment charges against him were dropped.
Brentford based Mr Slattery is unhappy with the statement to the police made by Steve Curran and has demanded his resignation as Council Leader. He has also made as complaint to the Police Complaints Authority about the manner of his arrest which he describes as appalling claiming that he was prevented from taking his blood pressure medication.
He was joined by over 20 supporters at The Griffin on Friday night as he celebrated his court case being dropped, having been charged with harassment of a person in their own home after a wheelie bin protest outside the home of Steve Curran.
The CPS dropped the case after seven months the day before it was due to be heard because "there is not enough evidence to provide a realistic prospect of conviction".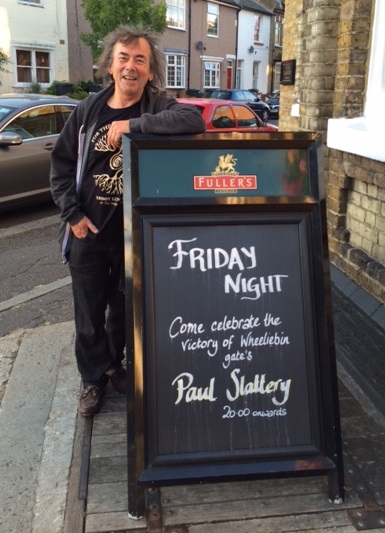 Mr Slattery said "There was never any evidence in the first place – all the police had was Curran's uncorroborated statement. I should never have been arrested, let alone charged. The whole thing has caused me untold stress and has cost the taxpayer tens of thousands of pounds.
"It has resulted in 8 months of hell for me and coincided with the slow demise this spring of my elderly mother who finally passed away on April 3rd. I had to take care of all the post death formalities and arrange her funeral, at the same time having to deal with this spurious criminal charge hanging over me. I was at her funeral on April 21st and at Uxbridge Court on April 25th to plead not guilty to this disgusting trumped up charge

"We were having a peaceful, humorous, and legal protest. Curran could have dealt with this in a diplomatic way but chose anger which was what caused any bad feeling.
"All the allegations made against me by Curran have been refuted by at least six witnesses who were there on the night. Curran claims that 'Paul came right up into my personal space'. This is not the case. Curran arrived in his car just as everyone was about to leave, wound his window down and swore at us. He then parked his car near the football ground entrance and came down the road towards me shouting and swearing. It was he that came up to me, everyone saw him.
"Curran then says in his statement 'Paul walked in front of me...stopping me from getting into my house'. Curran is a big man; it's hard to walk in front of him. I am heard to say in the video seen by the police 'your choice, If you want to go into your house you can go into your house Steve'. I even have a photograph of Steve Curran between me and his front gate.
"Further on in his statement Curran says 'I told Paul to remove the bins but he did not'. Again all the witnesses utterly refute this - they all saw myself, John Bradley and others remove the bins.
"At the end of the statement Curran says 'This incident has frightened my family and caused distress to my wife and son'. The house was completely empty until Curran entered the house.
"Whilst relieved that the case has been dropped I don't feel it's over. Steve Curran must resign not only as leader of the council but also from his council seat and I shall seek a Labour Party enquiry into his behaviour.

"I made a complaint to the Police Complaints Authority a matter of days after my arrest: my treatment by them was appalling.
"When the police officers came to arrest me they refused even to let me urinate, then handcuffed me despite me offering no resistance.
"In the cell I felt my blood pressure increasing and then realised that I did not have my blood pressure medication. When I saw the doctor he told me that at 180 it was extremely high and he said that my medication would be brought for me.
"Even though my blood-pressure medication had arrived I was still unable to take it before my interview, and it was only after I had left the police station that I was finally able to take it – a good EIGHT hours after I normally take it AND at a time of very high stress.
"My treatment by the Hounslow Met both during my arrest and time in police cells was humiliating and degrading and almost certainly contravenes Section 5 of the European Human Rights Convention. I am presently taking legal advice about this."
Nick Kilby who was also there on the night and took video evidence says "the treatment of Paul has been a disgrace and the case should never have been initiated. This shows the contempt Steve Curran has for his fellow neighbours and the citizens of the Borough of Hounslow who he purports to 'lead', as the situation could so easily have been diffused. The continuance of the legal process for 8 months with no evidence to convict is shameful. A waste of public money, police time but worse a nightmare for Paul to live through."
All quotes from Steve Curran are taken from his witness statement which was made the day after the protest, after the article about wheelie bins was published on BrentfordTW8.com on 20th November.
Councillor Steve Curran, Leader of Hounslow Council, said: "I would like to reiterate again, that I firmly believe in the right to protest. I know people felt and still feel, very strongly both for and against the introduction of wheelie bins.
"There is however, an appropriate way to make your feelings known. The protest which took place outside my home of which I share with my family, I felt was not appropriate. It prevented access in and out of my home and was also not fair on my neighbours.
"As Leader of Hounslow Council, I take full responsibility for the decisions we make as a council. Once again, if residents feel strongly about anything, we would welcome them to attend any of these meetings and also contact us as their councillors through the appropriate channels and we would always be more than happy to discuss any concerns they have about the services we provide."
Mr Slattery's solicitor from Bindmans LLP has written a case summary looking at the limits to protesting, finishing off with "Paul Slattery's case reminds us that all reasonable lines of inquiry should be investigated, charging decisions should be carefully considered, and the CPS must be prepared to review its decisions to prosecute – in accordance with its duty – at an early stage. Otherwise, unnecessary costs are incurred, disproportionate damage is caused to lives, and the freedom of speech is curtailed."
July 15, 2016