Benefit gig to be held for the 'Wheelie Bin One'
The Great West Groove will be playing a benefit gig for Paul Slattery this Saturday 11 June from 9pm at The Red Lion, Linkfield Road, Isleworth.
It will be a superb blues night. Bob Hokum's vocals seem to have been honed in Mississippi rather than Brentford, or the West London Delta as it's known around here and he's brilliantly supported by nimble fingered Steve King on acoustic bass, and Paul White on percussion. You'll be cutting the rug before you know it. Do come along and show your support.
Listen to the band at Great West Groove or find them on Facebook
Paul Slattery, a 65-year-old photographer, who lives on Lateward Road, is accused of one count of harassment of a person in their own home. The protest took place outside the home of Hounslow Council leader Steve Curran.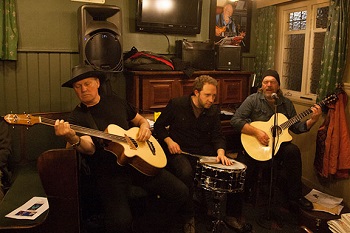 Great West Groove at The Brewery Tap
The full hearing is at Ealing Magistrates Court on 5th and 6th July.
He had been originally arrested on 21 November of last year. During the protest wheelie bins were piled up outside the property by people objecting to their imposition across the borough. Around 20 people participated in the protest but only Mr Slattery was arrested.
Cllr Curran said after the incident, "I had no option but to call the police as I was being harassed and felt threatened".
He has declined to make further comment.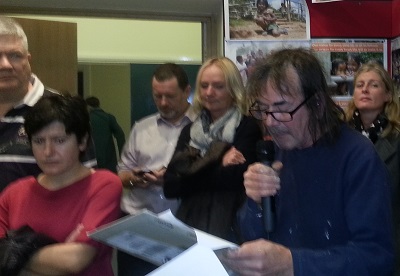 Paul Slattery (right) addresses a meeting on wheelie bins
June 10, 2016