Charge relates to protest last year outside Council leader's home
Anti-wheelie bin protestor Paul Slattery has been charged with harassment.
He had been originally arrested after a protest outside the home of Steve Curran, the leader of Hounslow Council. During the protest wheelie bins were piled up outside the property by people objecting to their imposition across the borough. Around 20 people participated in the protest but only Mr Slattery was arrested.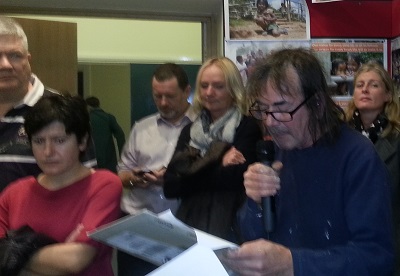 Paul Slattery (right) addresses a meeting on wheelie bins
65-year-old Mr Slattery, who lives on Lateward Road, was arrested on Saturday, 21 November 2015 on suspicion of harassment of a person in their house and bailed pending further enquiries.
He returned on bail Friday, 18 March and was charged on Friday, 18 March with harassment of a person in their own home (contrary to section 42A of the Criminal Justice and Police Act 2001).
He has been bailed again to appear at Uxbridge Magistrates' Court on 24 April.
Cllr Curran said after the incident, "I had no option but to call the police as I was being harassed and felt threatened".
He has declined to make further comment.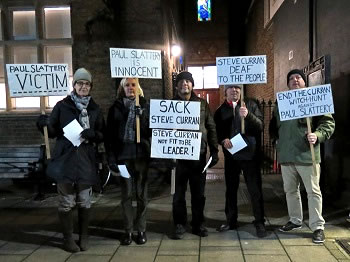 Protest held in support of Mr Slattery after his arrest
March 19, 2016