Wheelie bins deposited in front of Cllr Steve Curran's house
Brentford residents took to the streets on Thursday night to protest against the delivery of wheelie bins the day before.
Many residents claim that they have not been consulted on the new waste collection scheme and that protests via an online petition, a street petition and vociferous argument at last week's Isleworth and Brentford Area Forum have all fallen on deaf ears.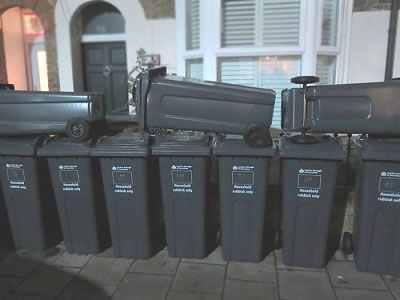 On Thursday evening some 25 residents wheeled their bins up Braemar Road. Shouting "No wheelie bins in Brentford" they then placed the wheelie bins outside the council leader's house and took photos. Cllr Steve Curran arrived at that moment, parking his car at speed and then shouted at the protestors to "p*** off".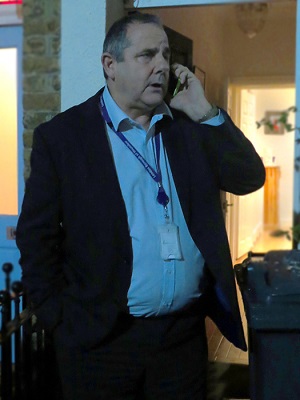 Several residents tried to put questions to Mr Curran - about why there had been no consultation about wheelie bins, if he thought they were a blight on the local community, and why petitions and communications to local councillors had been met with silence. Mr Curran was visibly angered by one resident who asked him "why have we been disenfranchised by the democratic process?"
Questions were not met with polite responses from Mr Curran who promptly phoned the police. The protestors were of all ages from pensioners to children and many of the adults have known him for decades.
According to John Bradley "Shortly afterwards at least four police officers and two police cars were seen guarding Cllr. Curran's home and patrolling the streets."
Paul Slattery, resident of Lateward Road said, "Perhaps the most telling thing said by Mr Curran was 'if you don't want one [a wheelie bin] then don't have one'. The residents will hold Mr Curran to this, but in the meantime residents will not give up their protests until the council sits down with them and discusses all the issues".
It should be noted however that if you refuse a wheelie bin your rubbish will not be collected.
As well as being regarded as an eyesore in areas such as St Paul's Conservation Area there are also health and safety concerns having bins too close to houses according to objectors. There were an estimated 29,884 wheelie bin fires in the UK in 2006. Recommendations from fire brigades include not let them block escape routes, not storing them in close proximity to a building, not leaving them out at night and storing them safely behind locked gates and doors. The position around insurance is unclear.
It looks as if some unwanted wheelie bins have wheeled themselves into St Pauls Park and there is a growing number.
Cllr Steve Curran, Leader of Hounslow Council said, "I firmly believe in the right to protest and I know people feel very strongly, both for and against the introduction of wheelie bins, but there are appropriate ways to make your feelings known.
"As Leader of Hounslow Council, I take full responsibility for the decisions we take, but it's simply not appropriate for a crowd of people to heckle and barrack me at night, outside the home which I share with my family. Nor is it right to prevent access in and out of my house with wheelie bins. Protesting outside my house is also not fair to my neighbours.
"I had no option but to call the police as I was being harassed and felt threatened".
November 20, 2015