At Spark! Education Business Partnership awards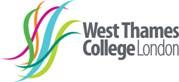 Sabina Enu-Kwesi, aged 19 from Hounslow, was awarded Work Experience Student/Intern of the year at the Sparks Annual Partnership Awards on Thursday evening. West Thames College student Sabina beat the odds in a male dominated industry, finding her niche through undertaking a lift engineer apprenticeship at internationally renowned Otis Elevator Company.
Sabina spoke enthusiastically about how she got the role:
"I started studying at West Thames College 2 years ago. I undertook a Level 2 Manufacturing course, gaining a Distinction, and then progressed onto my first year of Manufacturing Level 3. I was told Otis was holding an introductory taster day and I was drawn to the company. I then put myself forward for the Otis Apprenticeship scheme".
Sabina has continued to set her prospects high and aims to undertake an NVQ Level 3 and 4, within 3 years becoming a fully accredited Lift and Escalator Engineer.
When asked what makes her so passionate about her apprenticeship, she commented:
"What fascinates me is the prospect of working on different sites, learning how to deal with a number of lifts manufactured by different companies."
According to statistics, only 6% of the engineering workforce in the UK is female, and according to the Women's Engineering Society, only 4.3% of females completed an Engineering and Manufacturing Apprenticeships. Sabina talks first-hand about the obvious gender gap within the male dominated Engineering sector.
"Even though apprentices from all over the UK get chosen to go onto the scheme, I am the only girl out of 19 successful applicants within my region, but I won't let that get in the way of me being the best at what I do"
"When I first came to the college I knew very little about manufacturing, but with the help of West Thames College, I soon realised my potential, and was given the foundational knowledge and direction I needed to get here".
The Work experience student/Intern of the year prize recognises young people who have excelled in grasping the opportunity that their work placement or internship has offered, and is assessed by local representatives in education and industry.
In order to find out more about courses in Manufacturing, Engineering or apprenticeships attend our Feltham Skills Centre Open Day on Saturday 29th November, or http://www.west-thames.ac.uk/en/events/open-days.cfm for more insight.
November 27, 2014