Celebrating the best at West Thames College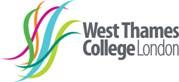 The achievements of more than 80 of West Thames College's most outstanding students were celebrated on 27 June at the college's annual student award ceremony. The student awards identify not only those who achieve academic excellence, but also students who have overcome difficulties in order to succeed, or have gone out of their way to help others.
Special guest, Ashleigh Porter-Exley – winner of BBC's Young Apprentice 2012 – presented the awards along with Principal, Marjorie Semple, Mary Macleod MP for Brentford and Isleworth and Deputy Mayor of Hounslow, Counsellor Corinna Smart, and gave a closing speech, saying, "I first came to West Thames in March and found the students so inspiring. It's an honour to be welcomed back."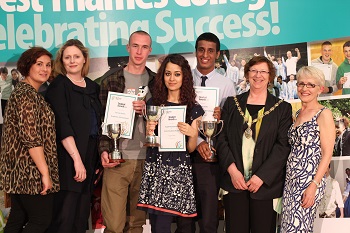 L-R: Ashleigh Porter Exley, Mary Macleod MP, Pavels Kosels, Sadaf Mostamandi, Anand Joshi, Deputy Mayor of Hounslow and Principal Marjorie Semple

Three successful former students – David Hollands, Elijah Kinne and Soliat Bada also attended and shared their achievements since leaving the college. All three praised the college for helping them to get where they are today:
Soliat Bada, a former dance student who left the college in 2009 recently appeared on ITV's Britain's Got Talent, reaching the semi finals as part of dance trio, CEO Dancers. "I feel honoured to be here," she said. "This is where I started my dance career and where I got my foot in the door. I loved every minute of it."
David Hollands, a former ICT student who won the Academic Achievement Award in 2006, went on to gain a first class honours degree in computer science at Royal Holloway. "West Thames gave me the second chance I needed," he said. "I'd like to thank all my teachers for the support they gave me." David now works for IT management consultancy, Accenture.
Elijah Kinne, a former Art and Design student and 2008 award winner, has just gained a first class honours degree in Fashion and Accessories at Northampton University. He has worked for Jimmy Choo and Gok Wan and hope to begin a Masters degree in September. His advice to students was to "take hold of this moment, enjoy your time. If you love what you do it'll show."

Three students were chosen from the award winners to be the overall Students of the Year 2013. The winners were: Engineering student, Pavels Kosels for the Academic Achievement Award; ESOL and Computing student, Sadaf Mostamandi for the Determination Award; and Aviation Operations student, Anand Joshi for the Contribution to the College Award:
Sadaf Mostamandi (17) arrived in the UK as an asylum seeker two years ago with only a smattering knowledge of English but has just completed a Level 1 BTEC in ICT and will be progressing to Level 2 in September. Having displayed tremendous courage in undertaking what must, for a 15 year old, have been a horrendous journey, she is determined to use the opportunities provided to her in the UK to work hard and succeed.
Anand Joshi (20) moved to Hounslow from Leicester to pursue his dream of becoming a pilot. He's been studying aviation operation at West Thames College for 2 years and will be progressing to Buckinghamshire New University in September to study air transport and commercial pilot training. He is a highly dedicated student ambassador and often takes the lead on projects and events. He was a games maker for the Olympics last year and was featured on the BBC News for his volunteering work. He is an exceptional tour guide, and guests to the college frequently comment on his exceptionally friendly and helpful manner.
Pavels Kosels (25) joined the college in the academic year of 2010/11 to undertake Level 2 Engineering course which he completed with a Distinction star and later on progressed the following academic year to do the Level 3 Diploma in Manufacturing Engineering. He has completed all modules at Distinction level He has always been eager to put into practice anything learnt and has always handed all assignments before their due date. Pavels is always very respectful and cheerful to both staff and fellow students alike.
July 9, 2013