Celebrating young people's achievements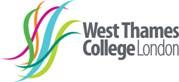 On 26 June students from West Thames College joined other high achieving young people from across Hounslow for the Jack Petchey Foundation Awards evening. The foundation was set up in 1999 by successful businessman Jack Petchey, to support, recognise and celebrate the achievements of young people across the London area.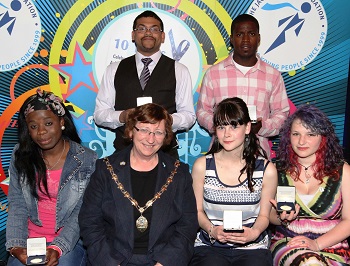 back row: Kenneth and Pedro, front row: Stephanie, the Deputy Mayor, Adele and Avril
The ceremony held at the Watermans Theatre in Brentford, saw six students from West Thames College presented with their awards along with other young people from the borough. The student award winners included Kenneth Fernando (22), Pedro Oliveira (18), Stephanie Pahin (18), Adele Jakutyte (21) and Avril Wilkinson (17) who all demonstrated determination and success in their personal and College lives. This is the second award this month for Avril Wilkinson who received a Personal Achievement Award at the Hounslow Volunteer Awards on 14 June. The award recognised her work as the college's Equality and Diversity Officer, supporting students and fundraising for charity, not to mention her voluntary work outside of college.
The students were congratulated on their success and dedication by the Deputy Mayor of Hounslow, Counsellor Corinna Smart, Chief Inspector Rob Weir of the Metropolitan Police, and MP for Brentford & Isleworth, Mary Macleod.
July 3, 2013