To open Grade II Listed Spring Grove House after year long refurbishment
On Friday 9 March, Andrew Pears' great-granddaughters Jane Allen and Annabel Stratton visited Spring Grove House in the grounds of West Thames College's Isleworth Campus. They cut the ribbon to officially open the new portico, marking the completion of the 12-month refurbishment project of the grade II listed house.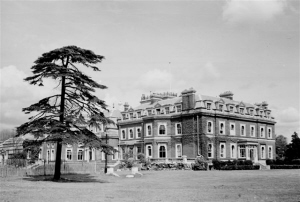 Andrew Pears, founder of world famous Pears Soap, lived with his wife and ten children in Spring Grove House from 1895-1903. Pears employed many local people in his family-run soap-making factory nearby. One of his sons, Tom Pears was tragically killed on the fateful voyage of the Titantic, exactly 100 years ago. On April 8, Ms Allen will be embarking on a cruise from Southampton to New York, following the exact route of the ship's maiden voyage.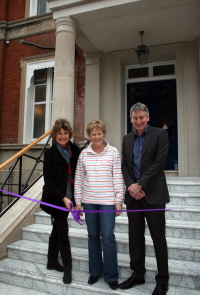 Annabel Stratton and Jane Allen are pictured opening the new portico at Spring Grove House with Martin Hesketh, Vice Principal Resources & Corporate Planning at West Thames College.

Jane and Annabel – who live in Portsmouth and Suffolk respectively – had only known Spring Grove House through an album of family photographs of the house dating back to 1900, so this, their first ever visit to the house, was quite a revelation. They were fascinated by the original period features and how much (and how little) some things had changed in over a hundred years.
Spring Grove House has just undergone a 12-month period of restoration work, forming part of the West Thames College Isleworth Campus rebuild project, so it is now looking at its very best. Spring Grove House is available for hire as a conference venue for business meetings, training and special events. It is also licensed for weddings. Visit www.springgrovehouse.com or call 020 8569 7173 for more information.
March 15, 2012