Sonic the Hedgehog™ opens new room at West Middlesex University Hospital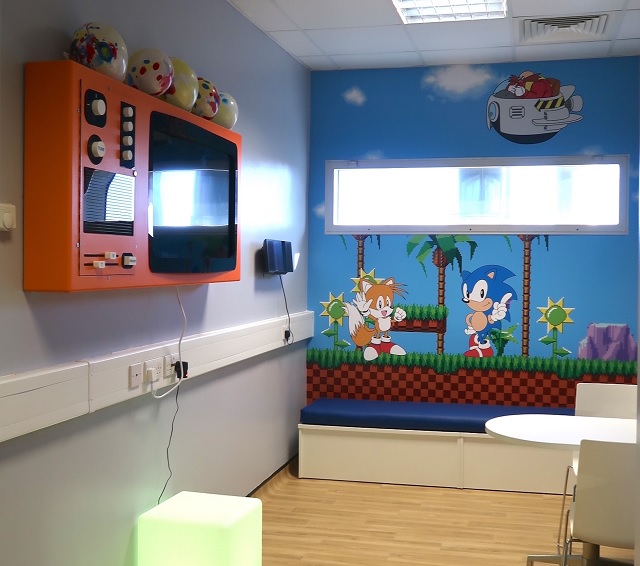 Teenage patients at West Middlesex University Hospital now have a dedicated space to enjoy during their stay thanks to the generosity of local company SEGA®,.
SEGA's® European HQ is based just two miles from the hospital in Brentford, and their support has been part of the Sun and Stars Appeal which was launched by hospital charity CW+ to transform the children's inpatient ward. The charity's appeal aims to raise £100,000 to urgently renovate and update the ward which sees over 8,000 children and young people every year, creating a more welcoming, child friendly and bright environment for patients and their families.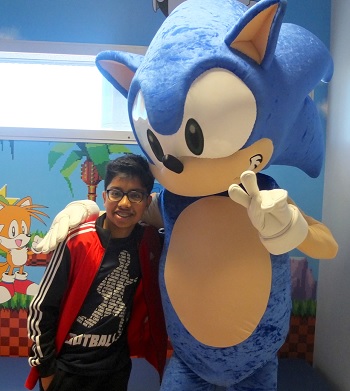 The ward previously had a small, outdated area for teenagers to relax in with limited equipment. SEGA® has worked with CW+ and teenage patients to design a bespoke dedicated room, with fun artwork of classic SEGA® characters adorning the walls, and a chill out area with bean bags. CW+ has created a retro gaming station and a selection of board games and books to help create a cheerful and enjoyable space for teenage patients.
Julie Metior, of SEGA® Europe's internal Values initiative, VIBE Aid, says: "We are delighted to be able to give back to the local community in such a fun and unique way. SEGA® has dedicated itself to bringing quality entertainment to young people for decades, and we're glad to continue this legacy at our local hospital; we hope this new-look room will aid in the recovery of young patients for years to come."
Gemma Brown, CW+ West Middlesex Manager added "The support from SEGA® has been fantastic and we are delighted with the finished room. We know how important a supportive environment and providing distraction and entertainment is, particularly for younger patients. Thanks to SEGA®, we can now offer this to our patients."
Vanessa Sloane, Director of Nursing at West Middlesex University Hospital said "Our ward sees over 1,000 teenagers every year, many who come every week for blood transfusions. To have a space for them away from the clinical environment and allow them to spend time with other teenagers, being teenagers, is amazing and will dramatically improve their hospital experience."
CW+ hope to conclude the Sun and Stars Appeal soon and transform the rest of the children's ward including a new play room, a 'home-from-home' parents' area, entertainment equipment and technology at every bedside, and bespoke artwork throughout.
December 5, 2018