Wireless monitoring system checks patients' vitals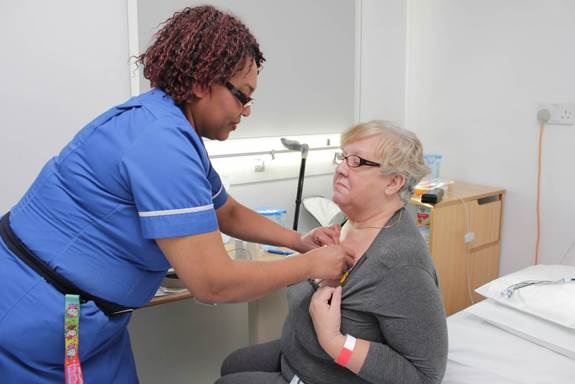 West Middlesex University Hospital is one of few in the country to be first to trial a new technology on their general wards that could potentially future lives. This technology is a wireless monitoring system of patient's vital signs providing medical professionals with real time information about patient's heart rate, respiration rate and underarm temperature so they can respond much more quickly to any significant changes that may indicate the patient is deteriorating.
Right now in hospitals across the UK it has been estimated that patients have their vital signs checked at six to eight hour intervals; advantages of having this new technology allows medical professionals to view patients' vital signs on a much more regular basis on a local screen away from their bed, in order to not disturb the patient whilst resting. The patch will detect if a patient's heart rate, respiration rate or temperature drops to a level that needs attending to. These patches then wirelessly communicate the relevant information to the screen for doctors and nurses to monitor.
Dr. Lawrence Petalidis, Head of Innovation and Impact for CW+, the Trust's Health Charity that is funding the evaluation, said: "This is an innovative project addressing key NHS challenges: early detection of patient deterioration and sepsis prevention. We are delighted to support West Middlesex University Hospital Consultant Cardiologist Dr. Sadia Khan, Deputy IT Director Ian Bryant and our Associate Medical Director Dr. Hugh Rogers in pursuing this evaluation of a new wearable technology. It is such projects combining Trust strategic priorities, disruptive innovation and significant patient benefit potential that we are keen to be part of."
After speaking with Dr Petalidis, Dr Sadia Khan followed on to say, "We look forward to exploring how this technology will improve both the care and experience for our staff and more importantly our patients".
This technology, SensiumVitals®, has been proven to save lives when it was recorded at one of their other candidate hospitals who are taking part in the pilot; a non-verbal patient's heart rate drastically increased to as they began to suffer from a cardiac related issue. Yet they were able to be treated with the right medication and their stats returned to normal all within a short time window as this was all recorded and made possible by one of the SensiumVitals® Patches that was applied when the patient was first admitted.
Alex Honour, the European Clinical Services Manager, who is also leading the pilot of this new technology at West Mid, said: "We're only at our pilot stage currently but our aim for 2017 is to get this technology on all relevant wards and have doctors and nurses familiar with the devices because we believe in the future this will save lives."
January 17, 2017