Sharon Walters, an artist living in Acton, currently hosts the first art show at the newly refurbished Weir Bar and Restaurant in Brentford. The Weir Bar and Dining Room (formally The White Horse) offers all day dining, complemented by a wide-ranging wine list and a selection of real ales, beers and lagers.
All of the acrylic paintings in the exhibition are abstract pieces inspired by the colours of her mother's homeland of Barbados. The conservatory dining room offers the perfect setting for the work in comfortable, relaxed surroundings.
The artist is a student at St Martins College of Art and Design where she recently received a Distinction in a Fine Art Foundation degree. Sharon has already received an unconditional offer for a place on the Painting degree course starting in October.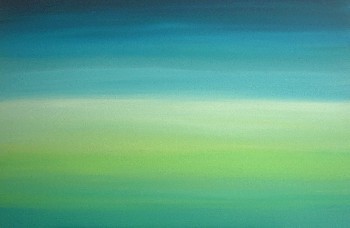 Emerald Glow - one of the pictures on show
Pavement poets display their work
Diesel House Studios - The Show Goes On