Just in case you didn't stick your nose out of the door on Saturday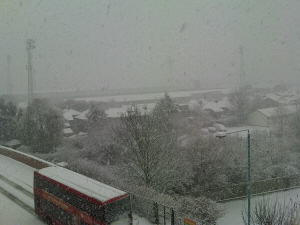 Griffin Park from the top of a 65, courtesy @franklyRichmond
Snow fell steadily on Brentford Friday night and Saturday morning, creating a beautiful tapestry of snow several inches deep, beautiful that is unless you had to go anywhere in which case it was anything but.
A dog who isn't sure about all this
Audi offering itself up as a Christmas present, courtesy @waterwellLtd
Sky HQ, courtesy @Laweseey, or Jim Lawes
Snowman II, courtesy @kath_brentford

I couldn't resist this one. What a jumper! Courtesy @benlover1983

And beware a very ill-mannered 10 year old girl in Brentford going around destroying snowmen. Shame on her.
December 18, 2010