Supported by Heathrow Community Fund
Watermans is organising a Summer School this year where up to 300 young people aged 13- 18 will be able to experience a range of arts activities over the summer holidays and learn new skills as well as build their confidence, sociability and creativity. This project called URBAN AMBUSH will be running for four weeks from Monday 29 July until Friday 24 August.
Watermans has been fundraising to be able to provide a great programme at a subsided level and are delighted to announce that it has received a 'Heathrow Communities for Youth' grant award of £25,000 from the Heathrow Community Fund to 'support young people in their education and skills development' to enable them to participate in the Urban Ambush programme.
Heathrow Community Fund, part of an independent grant-making charity funded by the airport owners will be awarding a total of £500,000 in grants during 2013 to support community projects in local boroughs.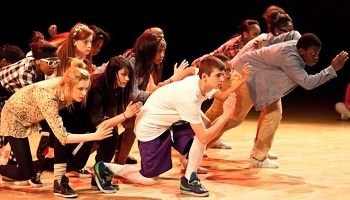 Watermans is grateful for the on-going support of the Heathrow Community Fund, and is continuing on its fundraising efforts to be able to provide an excellent summer programme for young people at a subsidised level.
There are about 20,000 young people aged 12-18 living in Hounslow speaking over 100 different languages. Many of them have very limited opportunities to interact with culture outside of school.
'Urban Ambush' - is something quite different for West London. A large-scale Summer School, it will offer young people the chance to work with leading professional artists on a wide range of activities, designed to develop their team-working skills and confidence as well as creativity. The entire Centre will be given over to the event and current plans are to offer the following workshops:
Digital Arts led by body>data>space, a leading edge digital arts company which collaborated with the outstanding Hey There Pussy Cat on Brentford Lock last summer.
Recycled Sculpture – led by Michelle Reader. This is the art of using discarded and recycled material to create three dimensional art that has its own story.
Street –Art with Paint My Panda. We shall be turning over the whole of our car park to provide a canvass for this.
Film-making with Chocolate Films. One of London's leading film-makers will take students through film-making from beginning to end.
Musical Theatre with Theatre Workout, working with students in our theatre to create versions of popular West End musicals.
Street Arts, Emergency Exit Arts, challenging and fun workshops to entertain people in informal spaces.
Dance. There will be a variety of dance workshops for all ages including aerial work with Zu Aerial,, Bollywood and the latest craze Parkour which is a dance version of street running.
Tickets will go on sale in May. Information will be added to Watermans website as it becomes available and the project can be followed on Facebook, WatermansUrbanAmbush

May 21, 2013