Monty Python's Terry Jones co-writes The Owl and The Pussycat - The Opera
This Tuesday will see the final performance of The Owl and the Pussycat at Mile End Park after performances last week at Graham Stree Gardens, Little Venice and Horsenden Farm.
The opening performance took place in Brentford on Brentford Lock, with a performance in the round as people gathered round and balconies filled with residents coming out to see what was going on as well as those who had planned their evening around entertainment at their front balcony.
The Royal Opera House commissioned Anne Dudley and Terry Jones to write the music and libretto for a new opera based on Edward Lear's The Owl and the Pussycat which is directed by Martin Constantine and designed by Emergency Exit Arts. Watermans worked closely with production partners Joule Events, and Canal & River Trust. The production was performed on a pontoon.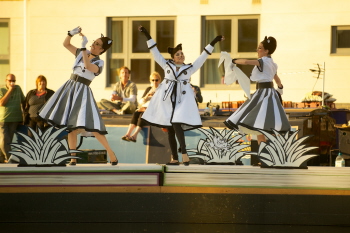 In the opera, which lasted about 40 minutes, the owl falls in love with the pussycat who is insulted by the very idea. How could she possibly fall for a bird! We meet the bong tree who says being a tree is boring as he can't move anymore. The wedding turkey bears more than a passing resemblance to Elvis and the pig with a ring on her nose is sung to with "beautiful nose, wonderful nose". The League of Feline Decency shows up, worried by rumours that the pussycat may be succumbing to the owl's eloquent pleas. The biggest laugh of the entertaining lyrics is when the owl and the pussycat discover they do have something in common after all: they both like mice. Eventually she falls for him and they both get into the pea green boat that is tied up to the pontoon and they row away. Edward Lear would have approved.
This is one of the highlights of the Mayor of London's 'Secrets', a series of extraordinary site-specific collaborations taking place in a range of hidden spaces across the capital in summer 2012.
Watermans, in partnership with LB Hounslow, has worked with many schools in Brentford on responses to the Edward Lear poem leading up to an installation by Body>Data>Space which followed the opera performance . For this students recorded drum beats, rhythms and music, narrated the poem, renacted the story using masks in creative fashion.This performance is supported by the Mayor of London through the Outer London Fund initiative.
Both projects were linked by sound artist Jason Singh who brought his own interpretation to the works by the school pupils and to Anne Dudley's music
July 29, 2012