'Scouseness in the air' at Brentford School for Girls
Lampton360 board was uneventful and in the early evening I cycled out to Lampton School for the Tenants Forum. It was dry when I set out but naturally started drizzling, then raining seriously so I arrived in drowned rat mode. Not a huge turnout of tenants but they gave me a fair hearing and asked some good questions about our Cleaner Greener program.
I made my excuses and shot off to Chiswick for the cycling party. I was devastated to have missed the speeches but I suppose the beer, pizza etc was some consolation, especially the beer. A good turnout of the cycling fraternity plus three of our parliamentary candidates (at least two of whom fit into the Venn diagram space where parliamentary candidates and cyclists meet). Sadly Seena not seen but even more sadly I've seen (and even more sadly heard) Seena's election video. No Brexit Party Ltd either but I suppose they'd send cyclists to 4x4 Clarkson re-education camps.
Friday was a day free of events, dear boy, events until the evening when we had a brief campaign update in the Labour Party office. Of course, Friday we heard of the terrorist attack at London Bridge. This was not a day for politics and our planned mass event on Saturday in Hounslow, to which Sadiq Khan was due to come, was cancelled whilst we reflected on other things and showed some respect for the victims and those from the public and emergency services who so courageously put an end to the mayhem. There was really no need for a man in pyjamas to chase one of our leafletters though. Fortunately such incidents are very rare and a great shock when they happen. Our leafletters are forged from tough raw materials however and the lady who was chased was more upset at having dropped her remaining leaflets than by being chased.
On Sunday morning I joined Ruth and the team out in the small estate around Turnpike Way, near the Tesco Local in Isleworth. Then in the afternoon two of us took to Chestnut Avenue and surrounds back in Brilliant.
Monday, brightish and earlyish (I was actually a bit late) to the rear entrance to Lionel School. Nearly all parents are pleasant at these school leafleting events though Ruth did get a tweet a couple of days before which I cannot repeat in a family blog but was not too complimentary, you might say.
Soon after I was at another school, Brentford School for Girls, for the opening of their new all-weather pitch. There were a few young players and staff from Brentford FC in attendance and I detected a certain Scouseness in the air. Turns out young Joe Hardy hails from the Wirral, from the very same small town where I was dragged up. So that's me, John Peel, Ian Botham and Joe Hardy. Put that in your pipe and smoke it. Joe is the incredibly handsome one in the middle of the group of 3, so not only talent but beauty from Heswall.
Anyway, great to see the pitch done and I'm glad we were able to broker a solution which seems to be OK with residents in Lateward Road as well as the school. There was great alarm when the new pitch was originally proposed with floodlights near to people's back gardens. Cllr Biddolph is shocked that Astroturf is hard to recycle (maybe not in 30 years when it's worn out) and of course her government have only had 9 years to ban it. Fortunately they haven't got round to it, so the girls can get plenty of sport. Good to see people from Harlequins Rugby there as well. Rugby for women was dead exotic when I was at school but good to see it getting more mainstream.
After that, more canvassing with Ruth up in the Northumberland Estate by Gillette Corner. All going smoothly though councillors like me are constantly digressing to report some street defect or flytip on the Hounslow dedicated version of FixMyStreet – try it, it's dead easy and Hounslow Highways are usually out in a flash to fix or investigate.
On Tuesday I spent a bit of time on leaf inspection in Chiswick. Leaf fall, contrary to intuition, is somewhat unpredictable in timing and intensity. For whatever reason it has been both early and intense this year and this has put a strain on Hounslow Highways' clearance teams. I had heard of an unfortunate accident in Chiswick involving bruises to a toddler in a pram and toddler's mum when they missed a kerb half-obscured by leaf fall. I had a look around various roads across Chiswick. Most were OK (if not perfect – those pesky leaves keep a-falling) and I asked for remedial action on a couple of sites. I bumped into a clearance team near Fauconberg Road. Their ride on sweeper had broken down so they were having to shovel by hand but this chap was cheerful (as was his pal, but he was too bashful to be in a picture).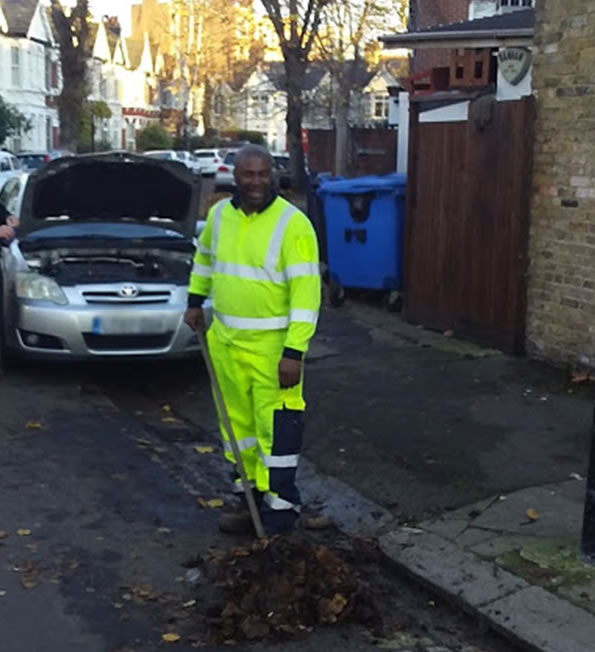 Back to leaflet outside lovely Green Dragon Primary School. Especially nice parents there and of course many of the children have been schooled the Lambert way, though my daughter has now moved on to a school in Wandsworth.

Wednesday morning I hear of a fire at our local Travelodge. By the time I surface the fire is out, the residents temporarily rehomed (initially the council readied Isleworth Leisure Centre but I believe this wasn't needed as Travelodge found rooms elsewhere) but the High Street and North Road are closed and you can't move for coppers and firemen (even on a bike).

Fortunately no one was hurt and it impresses me how not only do the brave firefighters deal so decisively with matters but everyone else from hotel staff to LBH officers sort things out very fast in the middle of the night.

I spend a pointless hour or two chatting to the cops, plus a few people whose cars are trapped in North Road or whose belongings are trapped within the hotel. It's frustrating for those 'trapped' but the emergency services take no chances, and matters aren't helped by questions about whether the fire was set deliberately – it started in a bin store which I believe serves the converted church. The bin store is uncomfortably close to Sarah Trimmer Hall but as far as I can see that is undamaged.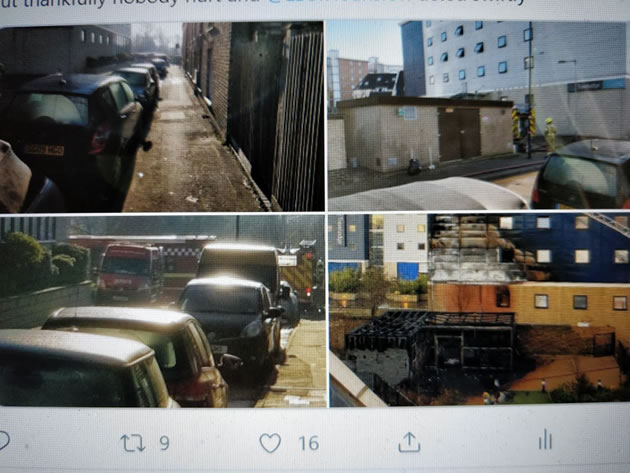 Watermans Park was infested with photographers. I said they were paparazzi but somebody else remarked that the attraction of the Brentford Travelodge for paps had been Trumped by events in central London.

Doesn't Watermans Park and the river etc behind look beautiful though? Handy source of water (or maybe mud) for the fire crews too.


In the evening, Clayponds Gardens for a particularly slick door-knocking session. We were joined by part-time (and former full-time) army officer John Stroud-Turp and we moved through the Gardens with military precision and a generally warm reception, except for the charming gentleman who suggested I should be wearing a National Front rosette. Behind the times on multiple grounds.

Today some Hounslow House sessions, more canvassing, more schools, and the turning on of Brentford lights with our illustrious Mayor at 6pm, plus Brentford Voice party party party.
Apparently I'm wordy so I'll shut up now, having loquaciousnessed enough.

Cllr Guy Lambert
The list of prospective parliamentary candidates for Brentford & Isleworth is:
Ruth Cadbury (Labour)
Seena Shah (Conservative)
Helen Cross (Liberal Democrat)
Daniel Goldsmith (Green)
Lucy O'Sullivan (Brexit)
December 5, 2019