Cllr Mel Collins celebrates three quarters of a century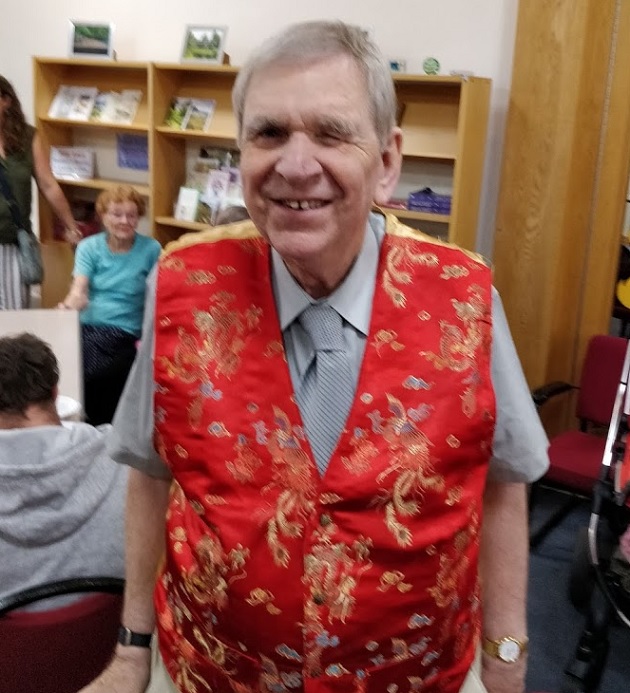 Thursday evening was the Planning Committee. It was a packed hall, mainly with supporters of the proposal to turn the listed and unoccupied George pub in Isleworth into what some describe as an Islamic prayer centre and others describe as a mosque. We had had a bit of a preview of this proposal at an area forum meeting last year and I formed a favourable impression. Not much had changed in the meantime. Some locals are worried about traffic and parking impacts but the committee found it hard to see this as a decisive problem. The very urbane local Isleworth councillor Salman Shaheen suggested some conditions to the approval which everybody was happy with, but then we got into an absurd procedural wrangle which caused steam to emit from the ears of one dishonourable member (this one) as we wasted 15 minutes arguing about nothing. Anyway, approved.

Rest of the agenda was uncontroversial until we came to 1-4 Capital Interchange Way. I had rather liked the previous proposal here from the late great architect Will Alsop which would have looked like the cover from a Yes album from the 1970s, and included a car showroom for a brand wreathed in secrecy (Hyundai). They went for the Alfa Laval tower instead and then changed their minds altogether so Alsop's scheme didn't progress and now we have a rather boring (my words) scheme. As well as an Alfa tower that remains derelict and which they are trying to turn into rabbit hutches under the government's genius 'prior approval' scheme. I hope they will fail. Not enough 'amenity' space at Capital Interchange Way but lots of affordable housing, so I'm torn. The terrible twins (Tories Genghis Todd and his apprentice Michael Denniss) vote against, I abstain and the rest vote to approve.

Friday morning it's Hounslow House, where I attend the Residents Association Forum. They are getting a presentation on recycling so naturally they are baying for a bit of lead member blood. Actually all very courteous and polite as it turns out with the usual debate about black plastic (no it doesn't recycle, yes we do take it, no we prefer you put it in your general waste, no we won't reject your plastics box if you put it in there, geddit?)
Then I meet the newly-installed chair of Lampton360. She has a great CV and is very positive and energetic so I think she will help us really accelerate progress. Later on I meet leader Steve Curran and people from Brentford Voice for an excellent coffee'n'cake in Feather and Heart by the lock. This always brings out my latent spoonerism addiction. We talk amicably about lots of different Brentford matters.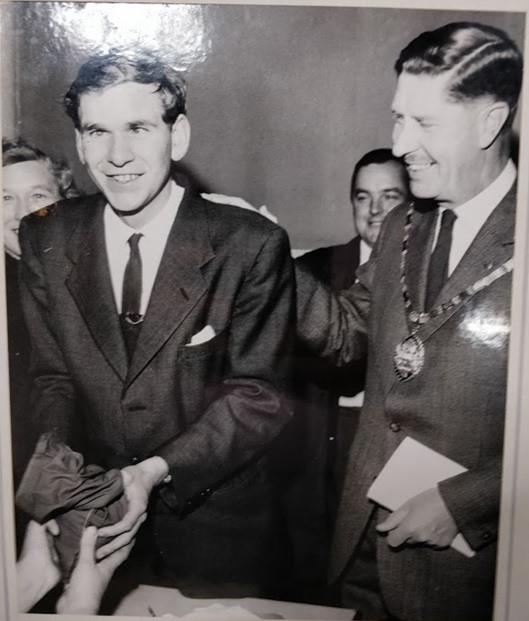 Saturday I'm called to the Free Church for a momentous occasion – a surprise birthday party for Mr Melvinator himself who is celebrating his coming of age (3/4 of a century). He was presented with various goodies from Brentford FC including this signed shirt: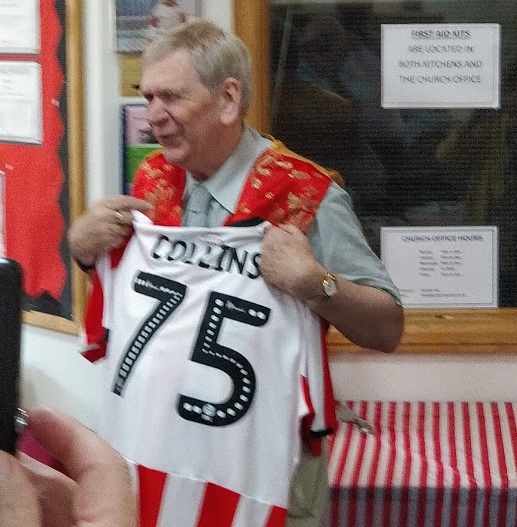 Hasn't changed a bit, though he seemed to have wrapped himself for Christmas with that waistcoat.
Sunday I cycled down to Hanworth Park House for the open day. The old house is still standing (just) and really must be saved – schemes still being worked out between LBH and the owner/developer. Plenty of old cars but how could I resist the pomp and splendour of our very own mayoral car, the very regal Loukimousine. Not for us your common or garden Bentley but this invaluable (as in not very valuable) classic Ford Escort. I bet people were still bemoaning the lack of a starting handle when this was built. Possibly with good reason.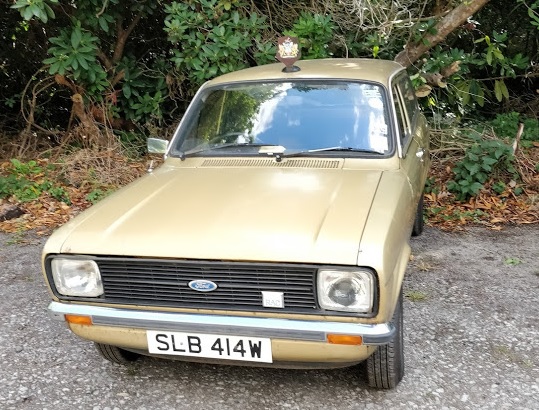 Then, stopping only for a change of shirt (it's quite a long way to Hanworth, especially if your intrepid cyclist gets lost in various places called Hampton Something-or-other on the way home) I go down to One Over the Ait for a quick snifter before inspecting what's going on at Tidefest (lots of stalls and activities).
No meetings on Monday – I decide to give the Brentford Community Council a miss and leave a free stage for the Melvinator so I spend a bit of time cycling round the ward inspecting various issues that people have raised with me: overgrown trees in Boston Gardens, poor sweeping in York Road, defective road surface in Hamilton, flood at the bottom of the Boston Manor cycle lane, substandard maintenance of plants. I also dream up a few FixMyStreet reports of graffiti and fly tips.
I gym in the evening and then come back to watch the mental gymnastics of the mother of all parliaments. I find myself very torn these days between a macabre obsession for our national episode of self-harm (Brexit and its interminable machinations is bad enough but now we've foisted ourselves with what must surely be the most dishonest and incompetent Prime Minister in our history) and a desire to ignore it in hopes it will go away. Macabre obsession took over on Monday night/Tuesday morning, and it's a pleasure to see Johnson comprehensively deconstructed by everybody from Jeremy Corbyn to his brother.

On Tuesday morning I go to Chiswick to meet the chair of the West Chiswick and Gunnersbury Society. She wants to show me some flats which have poorly managed recycling and waste facilities which look a mess and a small new estate where she says some of the planning conditions have been breached.
Then to Hounslow House for a finance meeting. Everything seems to be under control and we even have some underspends, but of course we still have the next chunks of savings to find.
On Wednesday I attend the Great West Corridor consultation in the Holiday Inn. Nothing new really – been through it several times now – and not many members of the public in attendance. Chat with some of the council officers and with Denis Browne of the BCC about various planning matters.

Then it's a door-knocking session in Brook Road South. Ruth Cadbury, currently underemployed at her workplace if still busy with constituents' matters, is with us and it's heartening to hear from many locals how much they appreciate her and will vote for her (in the event of a General Election!) despite the general dismay and confusion around current events.

Another week passes me by, captive on the carousel of time as the old song goes. This weekend I'll be captive on the carousel at Goodwood as some superannuated cars and drivers entertain me.
Cllr Guy Lambert
September 12, 2019