Potholes, cycleways and evidence of diving at Brentford FC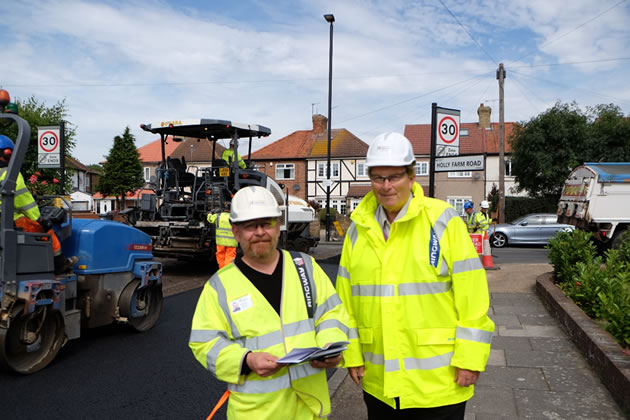 Hounslow Highways Engineer with 'Benny Hill'
I cycled into Hounslow House on Thursday to have a meeting with the Chief Whip, escaping without a whipping, then for a meeting with officers and Hounslow Highways senior management. As ever some things are going well and others not so well and I express a little frustration that progress is slower than I'd like, partly because of the difficulties of administering a 25 year PFI contract!
In the evening, the last one whilst my friend from Vienna is staying, we check out the Steam Packet on Thames Road in Chiswick. Nice enough, though I rather mourn the passing of Café Rouge which was a fairly frequent bolt-hole for me.
Also makes me feel old (shome misshtake shurely) as I remember it when it was the Steam Packet before. I had Sunday lunch there when I lived down the other end of Strand-on-the-Green (well, not actually ON it, you understand) and have seen it through the days when it was Café Dome then Café Rouge. What goes around, as they say, comes around.
On Friday morning I drive my chum out to Terminal 3 and then proceed to Heston for a photo opportunity to promote the Pothole Pledge. We're doing Holly Farm Road in Heston today and the road is infested with infernal machines stripping off the tarmac and relaying a shiny (?) new surface.
All decked out in my Hi-Vis finery with glasses that make me look a bit like Benny Hill.
In the afternoon I'm off to Labour HQ in Chiswick High Road for tea and cake with Ruth Cadbury MP and some of our wonderful volunteers who have been stuffing envelopes and delivering them to an unsuspecting public over the last few weeks (and may be getting very busy soon – more anon!)
Saturday is mainly for R&R on the bike but in the afternoon the R&R moved to Catherine Wheel (aka Blue) Road. I had forgotten that there was a classic car thing going on and turned up late for that but caught the exhibition of art at the Johnson's Island open day (plus Wendy Mackenzie's lovely pictures in her studio nearby). So much creativity in Brilliant!
I then repaired to the Brewery Tap, responding to an invitation from Dilys Matthews, one of the regulars there who is noted for refurnishing the smoking area and is now trying to get Ballymore to pay her back for some stuff they removed (I think). Nobody quite knows what's happening here, but the current landlord is leaving and this is the last night of the Tap in its current regime. The building is to be retained as part of the Ballymore scheme but it's in need of investment and that I believe is down mainly to Fullers, whose plans I don't know. A lot of people – including me, though I was only an occasional visitor - are sad that this Brentford (or strictly speaking Syon) institution is closed, I hope temporarily.
Sunday is Brentford Festival up in Blondin Park. Loads of interesting stalls and my favourite was probably Brentfordthrumylens. So many photos of Brentford then and now some of them flying away in the breeze, chased and restored.
My favourite picture was this one, but Bees fans, sorry to disappoint you but that was definitely a dive.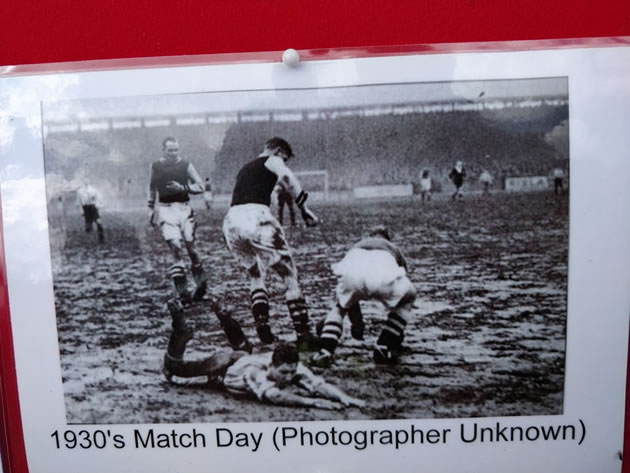 Monday morning I meet an Oxford undergraduate in Gunnersbury Park. For his undergraduate dissertation (takes me back) he is examining the emerging fashion for holding large music festivals in city parks. I give him my views, which roughly speaking are that they are inevitable because of financial constraints, have the benefit of bringing different people into parks (especially when there is a family day attached like there was with Junction2 this year), but have inevitable downsides, particularly for park neighbours. Therefore we need to keep the pressure on organisers to provide impeccable management.
In the evening Hounslow House, for a local plan workshop for councillors, looking at the plans for the great West Corridor and West of the Borough. I seem to have been going to presentations and workshops about this since Harold Wilson was Prime Minister but it may be an illusion. Anyway, there's a public drop in session/workshop coming up shortly (next Wed, 3 to 7.30pm, at our friendly neighbourhood Holiday Inn).
Tuesday morning I'm out in The Grove in Osterley/Isleworth, looking into potholes with various locals, Councillor Louki and Hounslow Highways. I have seen worse, to be honest but I ask for the road to be added to the pothole pledge list for consideration. It's sometimes hard to get over to people that – despite Hounslow's roads being in the best condition of any London Borough – perfection is not compatible with a 77% (source: Resolution Foundation) cumulative cut in central government funding of local authorities!
In the evening we have Cabinet. Normally cabinet meetings are quiet and quick affairs, but this time we have a big agenda and it includes consideration of approving Cycleway 9. Our Conservative chums in Chiswick have been (in my opinion) scaremongering outrageously about this proposal for many months.
They have gathered a huge number of signatures on a petition by suggesting that the cycleway will add to congestion and pollution (the opposite of what studies say) will destroy loads of trees (4, to be replaced by at least 9) decimate parking (5 pay and display spaces net will be lost, plus some single yellow lines will become doubles) and generally bring an end to human life as we know it.
Given the controversy, we make an unusual change to how Cabinet runs to allow protestors 10 minutes to speak at the meeting, followed by 10 minutes for supporters. I'm particularly interested in the suggestion from protestors that Dutch experts say the cycle path will be unsafe. I carefully study the Dutch report and find that it says no such thing. In the end we are all convinced that the cycle path is for the good and unanimously approve it.
Wednesday is a meeting free day (hurrah) but on Thursday morning I'm down to Ashmead Road Depot in Feltham to meet the MD and chair of Lampton FM360 for a general chat about how they are developing the company. I'm always really impressed by them, and I'm sure they are building a successful company, as well as already delivering cost savings and better service to our council housing.
Then I'm in to Hounslow House to (write a blog) then meet a planning officer with Corinna to update on the developers' plans for the Alfa Laval tower (they have applied for 'prior approval' to turn it into rabbit hutches for people, which is, ahem, not greeted with enthusiasm by councillors or locals) and we have a reassuring session. Just finishing of this blog now before a meeting with senior officers.
Oh. My esteemed leader passed by and pointed out that he too does a weekly blog: you'll find out what's really going on here.
Cllr Guy Lambert
September 5, 2019