Proves to be too much for his rear axle
On Thursday I have a meeting with a resident with a sorry tale to tell. She is 60 years old and has been homeless for several years following a relationship breakdown though she has managed to keep her job whilst sofa surfing. She is being asked for documentation but this is hard to come by when you've been homeless for a while, and she has problems related to her daughter and grandchild to boot. I'm not sure how to deal with this so I will have to work with council officers to try and find a way through. You tend to think sofa surfers are teens and twenties (it's bad enough when you're young) and it's hard for me to imagine what it must be like to be in that position at 60, but the lady seems pretty resilient.

Then a meeting with the estimable James Wisdom down at the Verdict café. James is one of those people who crop up all over the place: he is Chair of the Thomas Layton Trust (where I am a trustee) and also of the Friends of Gunnersbury Park and our discussions are mainly about Gunnersbury, its challenges and in particular Go Ape, where the Friends are considering their position.

In the evening we have the Isleworth and Brentford Area Forum in the Free Church. This is the first area forum for some time (since March, I think) but there is not a particularly controversial agenda and the attendance is quite modest, though we are more engaged than some other area forums. An update from the police (we meet a new graduate recruit officer) reveals nothing too ground breaking. An update from Hounslow Highways is similarly not too controversial. I am pleased to see that they have replaced two street bins that had previously disappeared but I continue to nag them to empty the bins daily as they are supposed to and to improve cleaning, particularly on the A4. Cleaning of residential streets has by common consent improved since they changed the system – I rarely get complaints now – but we still have serious flytipping problems, and not regularly emptying bins makes matters much worse. I sometimes forget the good things about Hounslow Highways – they do an excellent job on collecting reported flytips and removing graffiti and, although we can all see there are imperfections in our roads and pavements we really can't complain when only Westminster rivals us for having the best maintained network in London.

I then have a spookily appointment free 4 days, with nothing noted in my diary except a Labour party meeting on Saturday morning which I decide can function without me, especially as I seem to have done my ankle in. It's about endorsing Sadiq Khan to be our Mayoral candidate, which seems most uncontroversial.Walking is painful but cycling is fine, so I do a number of longish rides whilst the weather holds up.

When we get to Tuesday I have a meeting at Greedies excellent establishment in Isleworth to talk with some of the organisers of Isleworth 390 about their arrangements for Remembrance Day, which are quite something. Here's a picture of the council committee that is organising it: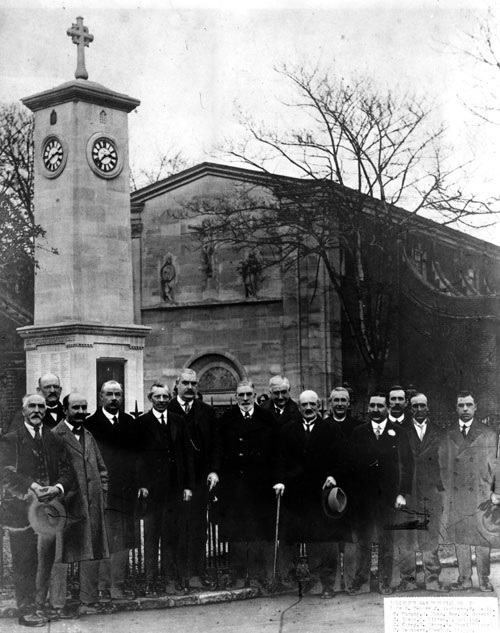 Oh, sorry, that was the committee that organised it back after WW1. You can tell it's a council committee by the racial and gender balance or the preponderance of old gits. Your choice. Anyway, this Isleworth 390 project seems a rather wonderful thing, because they are digging out both the stories of the 390 people commemorated upon the War Memorial and surviving relatives, some of whom come from around the world. Really rather a magnificent volunteer enterprise. More here: http://www.isleworthww1.co.uk
In the evening we have a cabinet briefing. I mount ole Pegasus for a ride to the Civic Centre and am slightly concerned that a graunchy noise I have previously noticed seems to be increasing. At Brentford bridge as I move off from the traffic lights I, um, do not move off from the traffic lights. The chain is entangled so I turn it over and start waggling. Then I remove the wheel to waggle better and a helpful young man hops off his bike to assist (great camaraderie amongst bikers). He quickly diagnoses that the rear axle has snapped and hands me a broken bit to prove it.

So I end up driving to the cabinet briefing, where we discuss a few matters that are of concern and where we will be going formally to cabinet on 16th October. A couple of things relate to my areas of responsibility and I'm pleased that, after some discussion, we reach what seems to be a consensus. Sadly, I miss the BRAG meeting and the 'Green' drinks in the Magpie and Crown which traditionally follow.

Early next morning I'm up at Boston Manor Station meeting one of the traffic people about signage etc. At least I would have met him had I not been late, partially because I was fannying around trying to find somewhere to park in my new bikeless existence. Anyway we exchange thoughts later and I'm pleased to observe that every single cyclist whilst I was observing used the cycle lane, whether going uphill or down, despite the continuing construction work at the top. Next I meet one of the lay assessors in Chiswick about our emerging plans for lay assessors' role, 'street captains' and general improvement in the public realm. Then it's Gunnersbury Park café for some talks about the Park in general and the proposed Go Ape concession in particular. I remain personally ambivalent about Go Ape. In any case it's up to the trustees of the Gunnersbury Park CIC who actually are independent despite what people think.

During the afternoon I ring up an independent bike mechanic who has been recommended to me and when he answers he suggests I meet him in his office, which turns out to be the garden area at the back of the Magpie and Crown. The kind of business premises I find molto simpatico, as it's possible they say in Wales, but slightly more probable in Italy. Anyway, he suggests ever so politely that there may be a reason why bicycle axles are vulnerable in my case. The sort of remark that makes a chap want a pint of beer and preferably a large plate of chips to console himself.

In the evening I attend the Overview and Scrutiny Committee. This is a cross-party group of members whose job is to review performance or plans made by the cabinet or council – a bit like select committees in Parliament. They ask which of our activities we think they should give attention to. In my case I suggest they might review the Lampton companies at some stage and they are welcome to review both waste and recycling and Hounslow Highways as services but it would be better to do that later as we are expecting significant changes to both in the next few months.

Thursday morning bright and early, OK, bleary and early, I attend Kew House School. Since Lionel Road South has been shut to facilitate construction work people have started zooming along Capital Interchange Way and the head thinks, not unreasonably, that this is putting his 500+ students at risk. There is also a fair amount of chaos in the rather narrow road. One for traffic colleagues.

Then the Civic Centre for a catch-up with the Leader. Helpful to get a bit of guidance about how to work with council officers. I am lucky with the officers I work with, who I think are outstanding but I have a big agenda (and no money!). Later in the day I have a meeting with my most important officer contact and we agree some priorities.

In the evening I'm off to Southall Lane for our first attempt at an evening tour event. It is supposed to be two batches of 50 people and both 'sold' out in minutes so a lot of people were turned away, In the event only about 10 people turned up for the first event and 5 for the second, which was a real disappointment and I feel for the staff who have given up their evenings for this. We have another event coming up Monday and after this we'll review the policy. Someone suggests we should charge for tickets and give the money raised to a charity, which may be a plan.

Anyway, that's it for this week, and for next week too as I will be away turning myself into a suntanned Adonis on Ibiza next week, and trying not to think of bins, Brentford or Brexit.
October 5, 2018