Pays for his own secret cinema ticket like the rest of us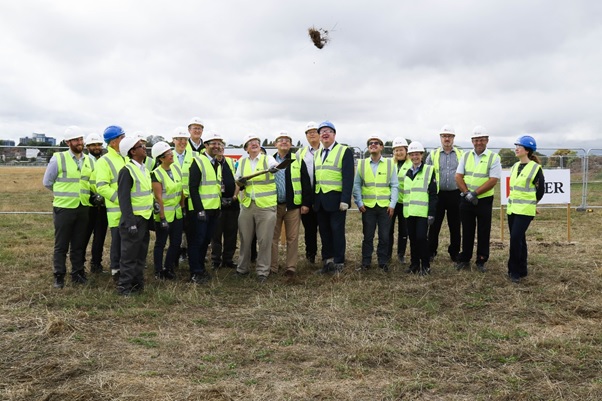 On Friday it's over to Gunnersbury Park for the ground breaking event for the new sports hub building. The great and the good from Keir construction are there, as are leaders of Ealing and Hounslow councils, ward councillors, a rep from the Lawn Tennis Association etc etc. The Melvinator gets the true soft soap treatment: we all are obliged to wear protective this that and the other. Some of us struggle with the silly boots but Mel has a charming lady ministering to his every need. He looks exceptionally pleased with himself, and life. Julian Bell looks pleased with himself as well, having tossed the first sod. For the avoidance of doubt, I did not really need the helmet as it didn't land on my head.
This is a big project, involving the movement of a trillion cubic Kilometres of earth (that may not be precise) so all the footy and cricket pitches will be level (Lords fans may ask, what's wrong with a slope?) and construction of a sports centre, changes to the car park, some artificial pitches etc. I learn that the luverly new tennis courts that have been installed have not been usable during the summer because it's too hot! The good news is that they will be all right next year even if global warming gives us a Dubai summer.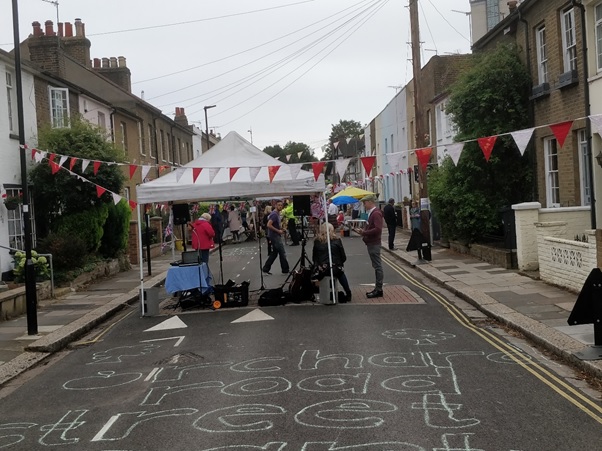 On Sunday I mosey along to the Orchard Road street party. This was jolly nice indeed, despite the fact that it was dead windy and a little bit wet. I felt a bit guilty because I won a prize in the £1 raffle and walked away with a magnum of scotch. Shtill, dis mite help me to rite a beter bloggs.
In the evening it was my great expedition to the Secret Cinema, accompanied by daughter. Natch I forgot the tickets so having cycled half way across Gunnersbury Park I returned to Ferry Quays and ended up hot, late but not particularly bovvered at Acton Town tube, as instructed. I then walked a mile down the North Circular, over the footbridge and entered the show, feeling exceedingly old. Anyway, the rain mainly held off and a good time was had by all, followed by me walking a mile back up the N Circular to pick up my bike. I was able to confirm the chaos on Popes Lane where multiple minicabs were lurking and displaying their customary exemplary road manners. I mean that in a bad example way. All pretty chaotic and I reported back to licensing, park management, enforcement and the promoters that a better approach is required. To all you old cynics I will just clarify: I was not there on a freebie enjoying VIP treatment, but as an ordinary punter having paid the slightly breathtaking ticket prices. I'm sure going to the old ABC in Liverpool was 5 bob after you'd persuaded an adult to accompany you into an 'A' rated movie.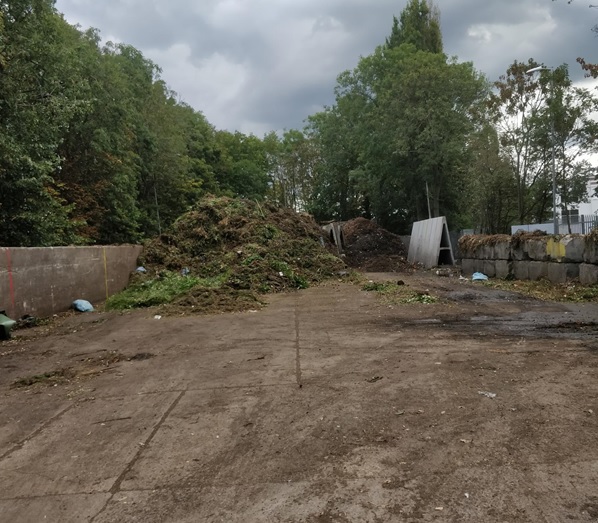 Monday was my great waste tour. A meeting with the CEO of West London Waste Authority followed by putting on all that annoying protective clothing to see all the delights of the Transport Avenue waste depot which Cllr Louki is so proud to host in the greenest ward in the Borough, Osterley and Spring Grove. Talking of green, this is where your garden waste has a short break before moving ever onward to the composting companies. The little pile on the right is grass cuttings from the streets.
I remarked at the end, that the more you learn about waste and recycling the more you realise you don't know. The CEO has been in the trade since she left university. I asked her if she had dreamed of doing this job when she was a teenager. As she stripped off her elegant hard toecap wellies, she said she had not.
In the evening, a meeting of the Brentford Community Council in the scout hut hidden away off Church Walk. In this Osterley-themed week Brentford had been invaded by lots of posh looking people who were there for a presentation by the self storage company who are having another go at persuading us that we need yet another storage warehouse at Gillette corner. There's posh for you.
Tuesday a meeting with our Credit Union admin company CEO in the most businesslike surroundings of the Hare and Hounds. It's a lot further and more uphill on a bike. In the evening it's a new licensing panel related to Gunnersbury Park. This is for gatherings in the House itself, the Orangery and the Temple – they are aiming for weddings, business meetings etc. I had written with some concerns myself, as had many neighbours of the park who were concerned primarily about noise, anti-social behaviour, light pollution, traffic issues and a myriad of things. The licensing enforcement officer had also lodged an objection but the application had been modified, which satisfied him and, I think, somewhat mollified the neighbours, though they are still concerned.
On Wednesday morning I met with a local businessman who is concerned about the proposal to ask businesses to pay a workplace parking charge to help fund the proposed rail link between the Great West Road ant the Elizabeth line at Southall. I'm conscious that I rarely meet business people and it was very good to hear his concerns and perspectives: also fascinating to hear about his business, which is basically creating and printing those little labels that go into garments and say size XXXXL (in my case) and 'dry clean only'. Many years ago I visited a company in Weybridge (we were looking to sell them the lease on a warehouse that had become redundant) whose business was making machines that make light bulbs. It's one of life's small joys for me to hear about these specialised industries.
Last week I was upbraided for not explaining my first ever 'single member decision' – to 'dim and trim' the streetlights. Trouble is, if there's nothing in my diary I tend to forget what I've been doing. Anyway, the police and our public safety people believe there will be no negative consequences of turning the lights on 9 minutes later and off 9 minutes earlier, nor of making them dimmer when they are on. This will save us quite a bit of money, and saving electricity is never a bad thing.
Off for a long weekend's break so I've written this on Wednesday night. Time for beauty sleep.
Councillor Guy Lambert
August 16, 2018