Flytipping and rubbish makes for a glamorous job
So I went for my lunch at GSK house with the lovely people from Spark! They are a charity who specialise in supporting young people into work by things like improving life skills. They are always looking for employers who will provide work experience to older schoolchildren so if anyone can help – let me know.
I have been to GSK a few times before but I've never eaten there and I was amazed by the 'street' that they have within the building. It is a bit like an airport – very clean and bright and soulless with cafés restaurants and shops – but for me it emphasised the challenges of getting people who work there to cross the Great West Road and make a short hike down to downtown Brilliant to add a bit of life to the place (and some pennies). We need to get the town centre remade, with the arts centre at its heart and more of the existing lovely river/canalside and find ways of making that old A4 less of a barrier.
Talking of which, still bikeless, I made my own short hike down to the existing Watermans for a meeting about 'Great West Creatives'. Hounslow – using an area comprising Sky, Chiswick Business Park, Brentford town centre and all points in between, is shortlisted to be one of three boroughs (or areas within them) chosen by the Mayor and GLA to be creative hubs. A bit awkward because Feltham Arts (and others) point out their own merits but to be successful in our bid we need to be focussed – something which catches the imagination like Silicon Roundabout did. The mayor's money is not enormous but winning will add a bit of prestige and cement our area as a prime one for creative industries.
In the evening it was meet at the Civic Centre for a puzzlingly long walk down to Hounslow House, the structure of which is now largely there, albeit not fitted out yet. The contractor who is building it is French and the honchos spoke to us about apprenticeships etc which was very nice, as was the building itself and the very French buffet. I was a bit stunned, though, that every employee seemed to be French (presumably including the apprentices, which to me rather dilutes the benefit). I spent 25 years working for French companies and with the exception of a short spell with a French finance director and even shorter spells with operational managers before we chased them away, there was barely anybody French to be seen. I know we have become more international and I'm all for people working across different countries (while we can!) but I thought this was a bit much. Anyway, the new centre will be bang in the centre of Hounslow, much smaller, and we are building, or having built, several hundred homes on the site of the old Civic centre, the first batch of which will be ready in the autumn. Big cost savings, shiny new centre in a better place, new homes at social rents, what's not to like?
Friday I'm out to Hayes first thing to talk Credit Union stuff. That goes well and I drop my colleague off at a bus stop – he's off to let his feelings about Trump's visit be known, whilst I proceed to Heath Road in Hounslow South to meet a couple of residents assailed by fly-tipping and other related issues. I don't have immediate solutions to any of this, which is frustrating, but we're working on ideas.
I confine my weekend activities – still bikeless after nearly two weeks – to a brief visit to the Syon Park allotments, just really to show a bit of solidarity as the Duke's appeal against our refusing planning permission to build houses on them moves on.
On Monday we have a meeting between the cabinet and senior council officers. This is the second since I joined cabinet and I missed the first one so my first. We talk through a number of priorities, such as how we are going to move forward our manifesto pledges. All of them are challenging, particularly when we're up against the ever- tightening budget pressures resulting from our central grants – once the major source of income - being gradually abolished. At the same time, Hounslow's population increases and demand for our services increases even faster because of demographic pressures and (amongst other things) more people being thrown into poverty because of benefit cuts targeted at the disabled and vulnerable. We are determined to deliver, though, as we did in the previous administration.
After that it's the Credit Union board, which brings its own pressures. We'd love to have more people borrowing money off us because our modest and ethical interest charges are our only source of income, but too many people prefer the lenders off the TV who charge up to 1400%. Anyway, if you want a few grand for a used car, home improvements or a once in a lifetime holiday – join www.thamesbank.org. You know it makes sense.
Tuesday morning I'm out to Manor Avenue in Hounslow West. Over the last week we cleared more than 6 tons of accumulated fly-tipping from the private road behind the Hounslow West shopping parade. These private roads are a nightmare – it's really up to the owners to manage them but we need to find a new partnership between landlords, shopkeepers, residents – especially those above shops – Hounslow Highways, Lampton 360 and the council because these horrible tips do nobody any good. We can, and will, catch and fine those who offend – we have identified about 40 from that tip alone – but that will only ever be a partial answer and we need to continue concerted action (and we will).
After that it's a discussion about trees with the Hounslow Highways arboriculturalist. Tree guru to you. We go to a road in Hounslow South where there's a large argument about a particular tree. To me it looks quite splendid and Mr Tree agrees but I'm afraid it's one of the council's conundrums that every citizen likes trees. Provided they are outside somebody else's house.
Then it's Hounslow High St/Bell Square with the Hounslow Highways street cleaning people and the ward councillors. There are some real cleanliness problems here and Highways are sent away in no doubt that improvement is needed, and fast.
In the evening, cabinet. Two things specifically Brentford – the excellent news of a near £4M investment in restoration of Boston Manor House thanks to the Heritage Lottery Fund, and the controversial proposal for a 'Go Ape' High Wire attraction for Gunnersbury Park. This is little understood by councillors and needs more discussion with both us and park users before anybody makes a decision. Pleased to hear that the Trustees seem to have a similar view. I'm pleased to see some actions coming following the work I did about air quality – Katherine Dunne is the lead member and she's keen to move things forward, also that the contentious issue of Feltham Assembly Hall seems to be moving forward amicably.
Wednesday is a rare blank day, and much needed as I have a sizeable backlog to deal with prior to an early start Thursday – out in Vicarage Farm Road in another big clean up operation on a private road. Nothing like as bad as Manor Avenue but a real blot on the landscape nonetheless and very annoying for those who live or work there.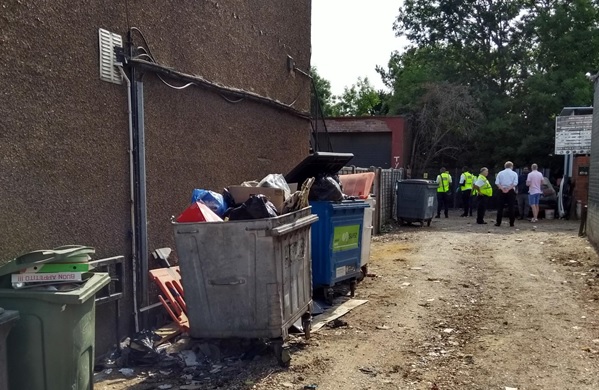 I always knew being a councillor was all glamour, but my new role is on another level entirely.
Councillor Guy Lambert
July 19, 2018