This week sees a tour of the West London Waste Authority

Drocopys martius or black woodpecker
Some people in the third world make their living by inhabiting and sifting through rubbish tips, I'm told. I'm very thankful for the privileged life I lead here in Brentford, in a modest but very pleasant flat overlooking two rivers and a tranquil, tree-filled environment – yeah, I know, the planes. Latterly however I am spending my life metaphorically knee-deep in litter and sure enough on Friday morning I found myself at Harrow Civic Centre for my first visit to the West London Waste Authority (WLWA).
Learning as I go along, the WLWA works for 6 Boroughs – LBH, Ealing, Richmond, Brent, Harrow and Hillingdon. They operate the residual waste sites at Transport Avenue in Brentford and Victoria Road in Hillingdon somewhere (I think!). At these they sort recycling from places that don't use our kerbside system (many flats in LBH for example) and pack up the residual waste for incineration, so it's turned into energy – so not wholly wasted and not put to landfill. This residual stuff is packed into containers and sent by rail, mainly to Severnside incinerator near Bristol – more here westlondonwaste.gov.uk

By the way, I asked the councillors from Richmond and Ealing if we're still chums and was assured that we are, so if you live in Brentford or Chiswick and find it easier to use Townmead Road in Kew or Stirling Road in South Acton instead of Space Waye, you can (contrary to rumours).

Oh, a couple of what I think are interesting facts – it costs money to recycle many things: not much for pure food waste (which is also very dense), about twice as much as that for garden waste. LBH still generates income from the other stuff we recycle (other councils often don't because too impure). But 'residual waste' in your black bag or wheelie bin costs 4 times as much to get rid off as green waste – so do try to do your bit.
Enough rubbish – let's go for literary rather than literal trash. My diary is spookily empty for last weekend but I know I did stuff – two decent bike rides on Saturday punctuated by a visit to Brentford School For Girls Summer Fair. This was fun, but I noticed that by far the greatest enthusiasm was reserved for the stall where a someone had his head in the stocks and a huge line of schoolgirls were queuing up to throw a wet sponge at him, which they carried out with unerring accuracy. I took this to be a teacher and I wondered if the MCC might introduce a new way of fielding training – put a teacher, or councillor, or Michael Gove in the stocks and guarantee 100% throwing accuracy.
Monday comes around and my poor overworked bike has to go to Chiswick for a service and to have spokes fixed in its back wheel. On Chiswick High Road some charmer shouts at me driving past so I enquire as to his problem when I catch him up at the next jam. He tells me to "pedal away to get rid of some of that fat". I made some observations about his character in return and reflected that this is the kind of bullying that cyclists learn to put up with. I rather doubt he would have made the same remarks had I been walking, even though I am equally fat whatever my means of perambulation!
In the evening, to the civic for a cabinet briefing, where we discuss various forthcoming matters which we will be formally reviewing in the nearish future, currently confidential whilst reports are worked up.
Tuesday the sad affair of the funeral of former Councillor Peter Carey, who represented Osterley and Spring Grove up to the recent election. I didn't know Peter very well, having only really seen him at Area Forums and Borough Council but he was known for his wit and a propensity for brevity characterised by his battle-cry 'Get on with it' which was always music to my ears. Someone who I believe genuinely cared, and someone I salute. Condolences to his family.
Later on, a meeting with the director of Housing, lead member etc to talk about the Haverfield Estate. The Melvinator (for centuries), I (for a couple of years) and Corinna (for a couple of weeks) have been grumbling about the Haverfield and its air of neglect and we're delighted to find the housing team looking to cook up a serious scheme to improve the estate.
Our compulsory training in the evening is postponed due to certain goings-on involving Colombia and Ingerland, which if you haven't heard came to a most satisfactory conclusion.
On Wednesday morning I receive an email rant concerning illegal immigrants. When I see phrases like 'vermin' and 'they come over here and push out the locals' my hackles are raised. But it turns out the immigrants in question are of the green variety, and feathered to boot. This is one for our friendly neighbourhood birder, my fellow councillor @Dryocopus. Apparently Corinna is "a genus of large powerful woodpeckers, typically 35–45 cm in length" though I'd put her a bit longer than that. Anyway, in that caring, sharing way, she describes the immigrants as flying green rats and recommends a flying cat in the shape of a peregrine falcon to act as an immigration officer.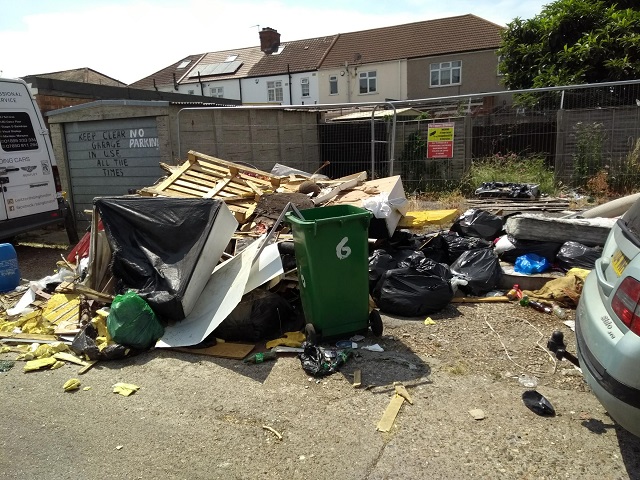 Wednesday I am lured to the fleshpots of Hounslow West by the siren voices of Councillors Jagdish Sharma and Sohan Sumra. There is a private road behind the shopping parade there which has become a revolting rubbish tip, now beginning to spill over onto the public highway. My fellow councillors seem to think that I'm to blame or at least I should be Mr Fixit. I explain, not really my portfolio but I'll see what can be done – really needs whoever owns the road to take responsibility so we start off asking shopkeepers who their landlord is, but they are very vague! I put the problem to planning, who should be able to find out.
After that it's a ward catchup with Melvinator - now back up to speed after a few weeks busy being ill and looking after his father in law following his mother-in-law's passing – and Corinna. Trying to work out how we will work together and talk about a few topical issues.
Then I meet with the LBH director responsible for my key lead member areas – Hounslow Highways and Waste and Recycling. We have some pledges to deliver, some general improvements to make across the services, and of course enormous cost savings to find. That'll be a piece of cake, then, hope I don't choke on it.
Then I'm off to Cornish House to meet with the BTRA, council film people and housing officers, and the producers of our very local TV show 'People Just Do Nothing' which is currently filming its final series (finishes today). They have caused enormous upset amongst the residents this week by (amongst other things) hanging a banner outside one of the towers suggesting they are under threat (they are emphatically NOT under threat), blocking off car parks etc. A useful meeting but not enough to really satisfy people who deserve better consideration.
After that it's off to the Harvester up in the uncharted area North of Boston Manor Station – Hanwell, as the old maps have it - for my ritual beating about the Boston Manor cycle lane and other local topics from the Boston Manor Residents Association. It's a long time since I've made a BMRA meeting because they usually clash with something. Anyway, as ever, it's not really a ritual beating but some real continuing concerns and a desire for updates. Corinna joins me, as do the two newly-elected Labour members for Northfields ward whom we're very pleased to welcome as the tide of red sweeps west London!
Sadly all this gallivanting is not by bike, as Pegasus is confined to stables having broken its rear hoof (or to put it another way, the wheel is split and they can't get spare parts until next Wednesday) and I'm rather bereft.
Anyway, that's my week, folks. Tonight we have Planning Committee. A short but controversial agenda including a local one – Goddards proposing to redevelop their yard on The Ham as a self-storage facility.
Two don't forgets – tomorrow (Friday) afternoon is Green Dragon School's Summer and Eid Fair 3.30 to 5.30 – a really lovely school in the heart of our community – do support it. And on Saturday the Classic Car Show and Summer Fair at Hanworth Park House 10-4.
Councillor Guy Lambert
July 6, 2018