Takes time out to celebrate Father's Day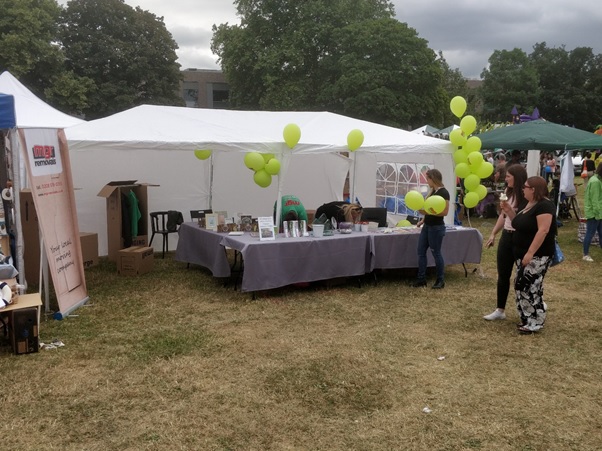 Hanwell Carnival
On Thursday afternoon, skipping along on my newly pain-free feet, I visit the Greyhound on Kew Green to talk about credit union matters with a couple of my co-directors.
Then it's over to the Civic Centre for a very long Planning Committee agenda. I like to go around and have a butchers at the sites I don't know but on this occasion I had too much other stuff on so I didn't make it. Most of it goes through without too much controversy – though a house in a Close in Osterley attracts some opposition – but we defer the application for a Shisha lounge at the Osterley Hotel. From the pictures presented my thoughts are that the new build will turn what is already a dog's breakfast architecturally into a full dog's dinner, though others think the architecture is OK.
The only Brentford one is for the structures for Secret Cinema, which will be held in Gunnersbury Park in August. There is a lot of (understandable) concern about events taking chunks of the park during the summer, but the park needs to generate income because the two owning councils can't afford to keep it in the style to which it needs to get accustomed. These events generate a lot of revenue which goes 100% to the Community Interest Company (wholly owned by the London Boroughs of Hounslow and Ealing) which now runs the park for the benefit of the community. We approve this, and I think Secret Cinema has the potential to be a really positive thing for Brentford. There will also be some free tickets – watch this space.
Don't forget, this weekend is the opening of the Gunnersbury Museum after a fantastic investment and renovation – details on the BrentfordTW8.com home page. It's also the Big Picnic in St Paul's rec from 1pm.
On Saturday I cycled up our fab new Boston Manor cycle lane to visit the Hanwell Carnival in Elthorne Park. I was tipped off to go as a company called MGR Removals https://www.mgr-removals.co.uk/ had a stand dedicated to fund raising for our FoodBox. They have excellent reviews and they were nice people on the stand, so think of them when you're moving or storing!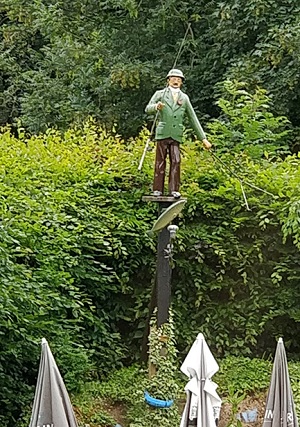 Sunday is Father's Day and my daughter treats me to lunch and a trip on a phut phut boat on the river at Henley. Many moons ago we used to have a boat of our own which was moored at Marlow and this brought back happy memories. We lunched at the slightly bonkers Flower Pot Inn in Aston. I don't know what this bloke thinks he's going to catch in a pub garden..
Monday is our Credit Union board, then Tuesday I'm off to the Civic centre to meet with our traffic people and TfL about 'Active Streets' – their campaign to encourage people out of cars and on to other forms of transport. Naturally, I was late leaving home so my good intention to go there by bike was ditched in favour of gas guzzler. Needless to say, I admitted nothing.
In the afternoon I get a call from one of our new councillors, Shivraj Grewal, saying that the residents of Greencroft Road are revolting. I offer to go over and see what the revolt is about. There are about 20 of them hanging around a street corner and I wonder if I should have brought a bodyguard, but all is calm (at least physically!). They complain that the road has many potholes (true) and that Hounslow Highways have fixed the bit that wasn't broken. (can't verify, because now fixed). I hear later that the mysterious white paint has now appeared around the potholes so I'm hoping the revolt will die down without further ado. It's good to have an enthusiastic new councillor working for his residents.
In the evening, my first formal cabinet. Nothing from my portfolio though there is a confidential paper about the proposed Watermans Park Marina. Which is confidential, so I'd better keep mum: in any case, the interminable legal battle with the existing boaters is not quite concluded so nothing to see here, move along.
Wednesday is a Lampton day. I have been invited to tour Ashmead Road depot in Feltham, headquarters of FM360 who look after maintenance of our council houses and will increasingly take on the council's own facilities and eventually external clients. They have a slick new IT system which allocates jobs to tradesmen efficiently taking into account where they are, their skills and their local knowledge. It is spookily similar to a system I used to be involved in for the police (where it's called a Command and Control system and used by 60% of UK police forces. Not the Met, which might explain something but I could be biased). It strikes me as a very vibrant team – enthusiastic and dedicated and I'm delighted to hear they are taking on 10 apprentices every year to learn real trades. In the afternoon I am sent out with Adnan: he was an apprentice himself 16 years ago and there's a vacancy in his van because his apprentice – pleased to hear she's a she – is at college today. 'We' do a couple of small jobs – a lady who needs doors replacing following a flood from her upstairs neighbour, and a replacement lock on a gate on an estate. After which I tell Adnan he'll have to struggle on on his own. Can you define what relief looks like as a facial expression?
In the evening up to Gunnersbury Park for a public meeting with Lovebox/Citadel organisers. As with every public meeting since Adam met Eve, the majority of attendees did not come to celebrate the proposals. In fact, their enthusiasm is well under control. There's no doubt that the park will suffer disruption for much of July, though the actual festival is only 3 days. Details here https://loveboxandcitadelcommunity.com/
So Thursday dawns and another blog bites the dust. I'm finding it hard to keep on top of things these days as the council emails and phone calls have proliferated with my new responsibilities. If I'm slow responding don't hesitate to remind me and don't forget that Brentford has two other councillors – Corinna Smart and the Melvinator, who resumes normal service from Monday.
Councillor Guy Lambert
June 22, 2018