Learns about Hounslow's children and corporate parenting
So here is blog number 144, but I will make a special effort not to be gross.
Anyway, the Heston Action Group are a most heartening bunch: they decided there was too much litter and mess around their neighbourhood, and that they were going to take action to improve it. They have had good support from Hounslow Highways and local councillors (as well, of course, as the local population) and have made a real difference. It's great to see these community initiatives taking off and we'll continue to encourage them and offer support when they need it. I knew great things were happening in Brentford and it's good to know others are at it too.
Thence to the Lampton360 board meeting out at the Southall Lane Depot. I'm an observer at these meetings – not part of the board but there to understand what's going on. The board seemed delighted to have me there. I suppose they would, wouldn't they? But seriously, I think they believe a more active engagement between them and the council will help move things in the right direction.
Let's start off with a bit of clarification: there are now two distinct Lampton entities. First, the Lampton360 group which has several subsidiary companies and looks after waste and recycling (Recycle360); parks, cemeteries and allotments (Greenspace360); and council property development, normally in partnership with builders/commercial developers. Secondly Lampton Facilities Management (FM) 360. This is a separate company, not a subsidiary of the Lampton 360 Group but directly owned by the council, and looks after the maintenance of council homes and their grounds. Soon it will begin to maintain corporate property, like libraries and the Civic Centre, as well. Anyway, the meeting last Thursday was for the Group – you'll hear about FM360 shortly.
Thursday evening the second part of compulsory Planning training with somebody from outside the council giving us a steer on planning policies, laws etc (which are changing).
Friday morning I'm off to Chiswick to see the doctor about a hideous and painful thingy on the side of my foot. Talking of which, who should I see taking the air with a friend outside Carluccio's but Genghis Todd himself, who later gives me a critique of my bicycling technique. Not that I'm suggesting the Venerable Councillor Todd is in any way hideous or painful, but us cyclists need to watch our backs in Chiswick where we are public enemy number one, causing appalling pollution by slowing down the Range Rovers. Doctor says take painkillers, and of course the thingy had already begun to recede in the three days I waited for a doc appointment.
Saturday morning, my surgery at Clayponds, probably for the last time, as we are now confirmed to do surgeries upstairs in Brentford Library from July. One woman came to see me with the inevitable housing problem – too many people in too small a flat. We try to build more bigger units but government policy forces us to sell more than we can raise the funds to build. I will try my best for this woman, as for all who find themselves in her situation, but I can't pretend there's likely to be a quick win.
On Sunday I begin to succumb to my annual bout of Summer Man Flu and by Monday morning I am in terrible pain and misery. Only a bloke with a cold will understand the burden I had to bear on that day. This meant that I had to cancel a meeting I'd set up with the officer in charge of both recycling and highways – the main parts of my cabinet portfolio – and also miss the first meeting of the new cabinet in the evening.
I was a little better on Tuesday and whilst I had to duck out of some Ferry Quays stuff, I very bravely got myself along to the Civic Centre in the evening to look at the 'marketplace' where the various departments of LBH set out their stalls (literally) to help new and existing councillors get their heads around what the council does. I found this really interesting and I realised that in my 3 years so far I have never really had to engage at all with childrens' services (which is probably the biggest service that the council provides) and very little with adult social services (maybe the second biggest). It was good to talk to some of the people who deliver these and a myriad of other services from pest control (they had a particularly fetching piece where the Cockroach Family were embedded in a clear plastic block – from pregnant Mrs C, through the various children, to the babes in arms (legs?) – how very charming) to schools planning (some people regard that as control of a different sort of pest).
On Wednesday I have a whole day at the Civic centre, starting at the ungodly hour of 9.30. First off, I receive my new toys – a Microsoft tablet and a council phone – hand back my old iPad and get trained/help with the setup of these new devices, plus get a stern lecture about everybody's favourite – GDPR and the new Data Protection Act.
After lunch I meet the 'client side' waste management team, who help iron out problems with the waste service. I have been very impressed by the work done by our local man who covers Isleworth and Brentford and it's good to meet some of the team who cover other areas and to talk about various issues that we need better solutions to, such as flats above shops. Still really finding my way around all this, but I'm pleased council officers see the same problems I do and are working on fixes.
After providing my documents for my 'Enhanced DBS check' – they want to rake over my criminal record to make sure I am free of sin (or at least not caught) – I meet with Mary Harpley and the chair and CEO of Lampton FM360 (see above) to discuss objectives for my 'representing the shareholder' role and how I will engage. For starters, I will be attending their board meetings and spending some time in the depot. Hope they have a Hi-vis that's big enough.
In the evening it's training on Corporate Parenting. It's made clear to us that we have a responsibility to all children in the Borough and that early intervention really makes a difference, whether it's simply a case of a child being neglected (the most common cause for action) or the start of a potential life of crime.

The statistics are interesting – a little scary actually: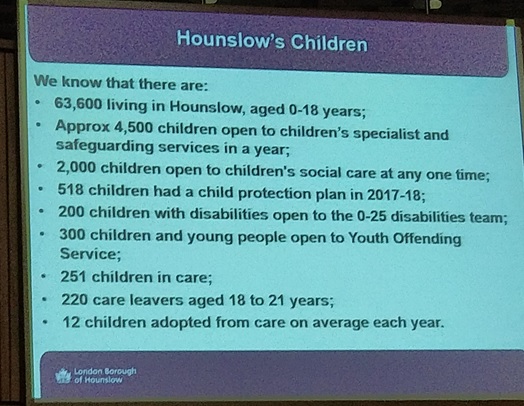 It won't do any harm to put out the numbers to call if you see something going on with a child that might need intervention.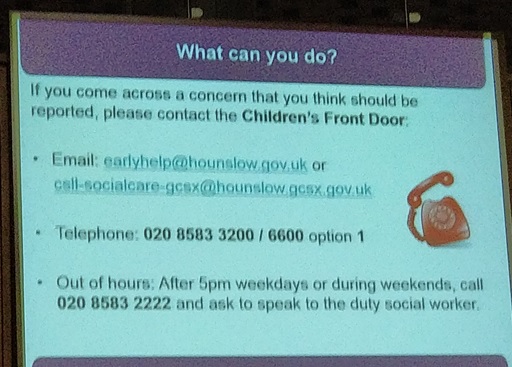 The email count has gone up since I've become a cabinet member so that's all you'll get today. Expecting a phone interview about Credit Unions in a minute then some meetings stretching into the evening.
Councillor Guy Lambert
June 8, 2018