Clanking manhole covers clank no longer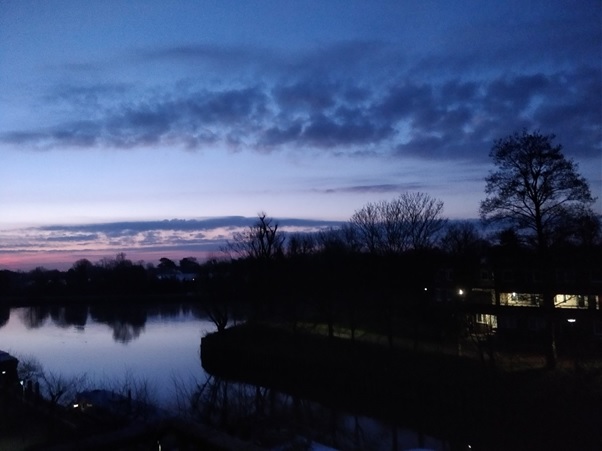 the view from Ferry Quays
I earned a rebuke last week for claiming credit for the creation of Air Quality Brentford. To be clear, I claim no credit whatsoever for any of the community groups that have formed, I'm just delighted to see them forming, and I want more to form!
Any road up, Thursday afternoon I visited the holy of holies – the first floor of Brentford Library where few enter and even fewer get out alive – with our new interim Head of Libraries. I've been trying for a while to get the upstairs back in use as a community space, to allow use of the toilets up there and to provide an alternative place for our councillor surgeries. Nothing finalised yet, but it all looks quite promising especially if we can get the stair lift working so the upstairs is accessible to all.
In the evening, a meeting of the trustees of Hounslow Community Foodbox, chaired by my Brentford ward co-conspirator Corinna Smart. Nothing all that groundbreaking – the Foodbox continues to provide food, support and, where needed, advice to the needy, and continues the eternal struggle to get a bank that starts with Ll and ends with yds to follow instructions. We're delighted to see our treasurer back in action after heart surgery.
When I was out canvassing in a previous life (4 weeks ago) I met a lady on the doorstep who had various beefs about work done to her council house up in the leafy Clayponds estate. On Friday I visited and concluded that the contractors used by the council for repairs can be just as useless as some I have used privately over the years. I'm hoping we can get her sorted.
On Saturday I hear on the news that some bloke from Windsor is getting married to someone from America. Good luck to them, I say, but as I've never met them I don't see much of an angle in watching them tie the knot. In the afternoon, there's one of those footy matches where you hope and pray that both sides can lose. All in all, a good day for a bike ride. The sun is shining and all's well with the world as I cycle down to Teddington. I don't see Two Ton Ted who drove the baker's van, however, nor Ernie, though that's probably a relief. I decide to venture into Feltham, where a resident has complained about some potholes and I want to have a look see. My bike has a hissy fit and throws its chain off, meaning I arrive there with nice oily hands – glamorous. Another lovely day on Sunday, so I cycle off in the opposite direction as far as Hammersmith. Back along Chiswick High Road etc, dreaming of cycle paths.
Monday morning I meet a resident in the Watermans. She had a nasty fall a while ago: we got the pavement where she tripped sorted but she was quite badly injured and needs some help persuading insurance companies that they should pay out for repairs. In the afternoon I get a tour of the St James development in Kew Bridge West. I have wandered parts of it before and canvassed some of the blocks but it was good to get a guided tour. It's a very nice development I must say, but doesn't really compete with my lovely Ferry Quays and our two rivers (see above photo for proof).
In the evening, yes, you've guessed it, Labour Group AGM 3 – return of the Jedi, and of the Melvinator who is now nicely recovered from his recent ordeals and has to be physically restrained from trying to get on every committee going. There are a million and seven committee and trustee and what have you appointments to be decided and, where necessary, voted on. All goes well under the clanking fist of Councillor Tony Louki our terrifying Chief Whip (or Mr Whippy 2, as I call him).
On Tuesday morning I'm up early – any time before 10 counts as early to us teenagers – meeting a concerned parent where the hordes of schoolkids cross the A4 heading for Lionel School (and smaller hordes cross in the other direction seeking Green Dragon). The phasing and the timing of the traffic lights leads to people actually running across the central reservation to try and make it and avoid having to spend time in the less than balmy surroundings under the M4.
Then, after a short patrol on the bike in our Northern provinces of Boston Manor, Clayponds etc, I hie to my second home, the Watermans Centre. Here I meet the woman who is well on the way to starting a Friends of Watermans Park. She has made good progress and, with her accomplice, has talked to other friends groups but still needs a couple more people to help get things going. Any volunteers – let me know, and I'll put you in contact. On the way out, I see that more fencing is being erected along the river bank. The interminable legal issues relating to the boats moored next to the park are nearing the end game.
In the evening it's the Council AGM, where all those appointments we've been deciding in the Labour Group (and them there have been deciding in the Conservative Group) are confirmed. Sue Sampson has raised a record sum of over £70,000 for her chosen charities in her year as Mayor and we are treated to a scary video of her jumping out of a plane with only another person (apparently) clinging on to her as a parachute. Samia Chaudhary has a hard act to follow. I have been appointed to the cabinet as lead member for Highways, Recycling and Companies. You can call me Major Rubbish if you like but I prefer to be known as Captain Dog-Poo.
I have been running a little campaignlet about clanking manhole covers. These are the responsibility of the utility companies who put them in and Hounslow Highways seem to have trouble getting them silenced. So imagine my astonishment when I tweeted about one this week mentioning @thameswater and got an immediate response. Such experiences can be habit-forming so I cycled along the High St and Kew Bridge Road collecting clankers and tweeting them, on Tuesday. Blow me down, but on Wednesday morning I'm cycling along the High Street and find that four of these – three outside Morrisons and one outside the Watermans – have been fixed overnight by the simple solution of covering them with tarmac.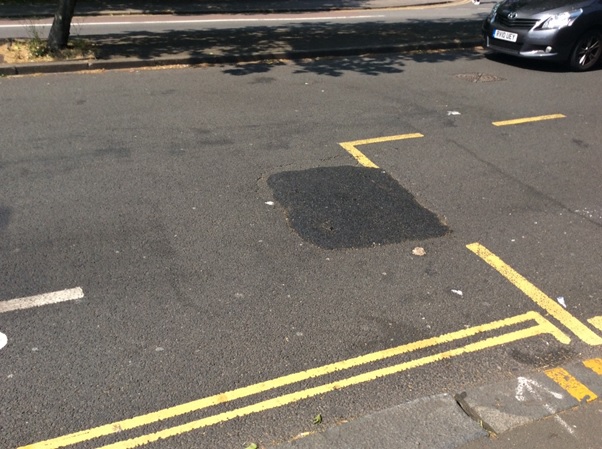 I am now completely addicted so if you see a fat bloke with a bicycle acting suspiciously with a camera, it'll be me. Still three to go on Kew Bridge Road, but we're getting there – fast!
On Wednesday I have to undergo the ordeal of a lunchtime drink in the Magpie and Crown, talking with a resident about Gunnersbury Park and the efforts to make it sustainable in the long term via the Community Interest Company which has just taken over its management. Then up to Boston Manor Road to review the cycle path with its designer and project manager and discuss some concerns that residents and the Boston Manor Residents Association have raised. It's well used going uphill (though the two of us managed to frighten one gentleman into taking a short stretch on the road to avoid us) but not so much downhill. There are a few things to finish, notably the crossing by Boston Manor station for which we await TfL and the bottom bit outside GSK, where I believe we have now gained agreement for them to give up some land. Ealing council are also talking about extending it beyond Boston Manor, so when all that's done we expect much more use in the southerly direction.
In the evening, my favourite pastime – a Labour party General Committee. We pass a motion urging Ruth Cadbury MP to take various actions relating to Gaza (whereupon Ruth stands up to explain she's already done most of them) and select the people to be our delegates at conference. Truly gripping so I should stop griping.
Today, Thursday, I am meeting some dudes from TfL to discuss a range of issues to do with the A4. TfL has just been reorganised (again) so these are new people to me. Meanwhile, reports of dumped mattresses, potholes and poo begin to roll in from across the borough. We'll get there, but not tomorrow. Onwards, ever upwards…
Councillor Guy Lambert
May 25, 2018