Five minutes of sunshine and a lot of canvassing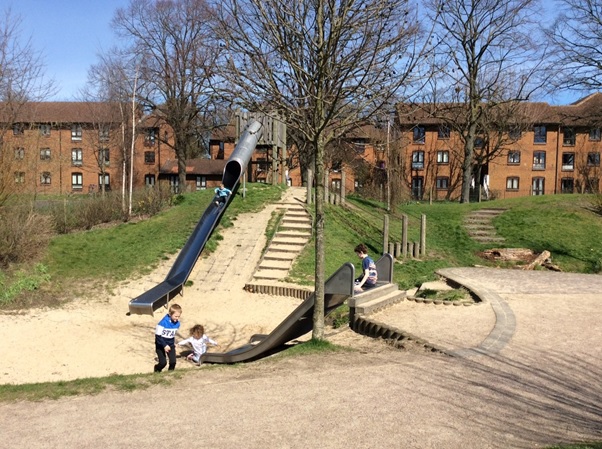 Adventure Playground at Dukes Meadows
Well, it was very interesting to see what's been done at Dukes Meadows. It was a frequent haunt back in the 90s when our hero would turn out for Honeywell XI against Rank Audio Visual (or whomever) in the Brentford and Chiswick Cricket league and generally scored a stylish 3 before being given out unfairly by an entirely biased umpire, thus getting in the way of the quick 50 that talent deserved.

The beautiful paddling pool and playground were not there at all, and apparently have been built and looked after entirely by the Friends Group, using money they raise with the farmers' market. The council is planning major upgrades to the sports facilities on this huge green space and it's important that everybody works together to make the best of the area.

Oh, as the picture above proves, it was a NICE DAY.

In the evening I was planning to meet with the Turnham Reds at the Pilot and go a-knocking but Tony Louki enticed me to Osterley instead by mentioning Indian food. A splendid evening on the doors followed by Tony's favourite Punjabi Karahi on Kingsley Road. Not the Ritz, but gourmet Louki assures me it's the best.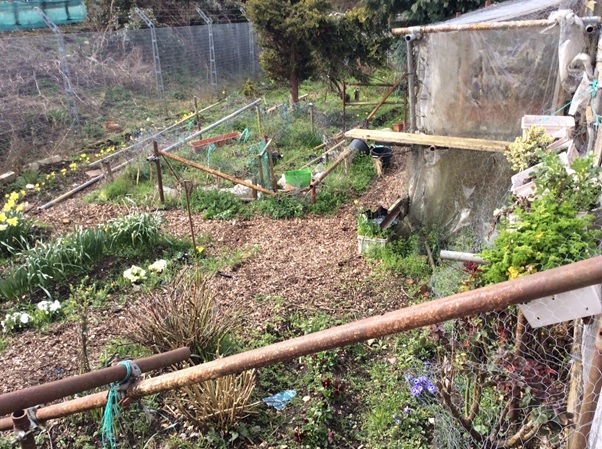 Friday morning and it's my turn to explore Brentford's allotments. Myra denies they exist, and they are hidden north of Boston Manor Station in what you'd really think was Hanwell, but there they are, in all their glory. I was told they were so overgrown that there could be tigers lurking but all I saw were a few bees and they were owned by my guide, who warned them off with a few sharp words. The allotments are – shall we say – variable in their husbandry and my guide originally contacted me many moons ago because she was having trouble persuading Carillion to take her rent. Some of the allotments may be in a rather sorry state but others, including my host's, are splendid. I'm hoping Greenspace 360, our wholly-owned parks, allotments and cemeteries company, will help get them all splendid.

In the afternoon we meet by the library and canvass up Windmill Road, York Road etc. Lovely people as ever. One gentleman who we have down as a Tory informs me that he reads this nonsense every week and appreciates it, but if I think that will make him vote for me I have another think coming. Fair enough – I enjoy doing it and if the odd person likes to read it (you don't have to be odd, but it helps) then that's good enough.
Saturday morning it's my surgery at Clayponds and unusually I had a prior booking with one resident I know very well. Sure enough, as usual at Clayponds this was my only 'customer', so afterwards I still had a bit of energy to go leafletting with Corinna up and down the Walks on the Haverfield Estate. Had not allowed for the Mighty Bees being at home (all bees this week) so Corinna had to skulk off after a bit when she saw a traffic warden getting ready for the 2.30 rush.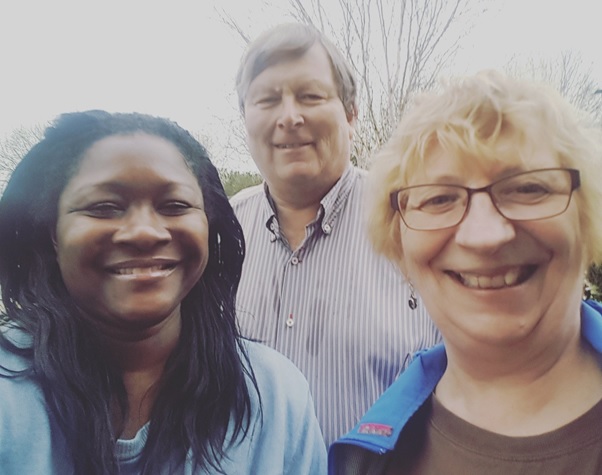 Sharidin Mumuni, Guy Lambert and Corinna Smart
Sunday we're down to do Layton Road but the rain drives us up a tower or two, joined by the lovely Sharidin, who reminds the absent-minded Corinna and I that we're really supposed to do selfies.

On Monday daughter and I make a visit to DFS on the Great West Road in search of a sofa to replace the hand-me down I gave her when she moved into her flat. Of course, as ever with things like this there's far too much choice so she goes away to ponder.
The evening has us down in Fullers' Hock Cellar at the Griffin Brewery. I was going to cycle there but the damp evening and the need for party frocks puts me off so I convey the Melvinator in the car, doing an Uber driver out of a job and doing myself out of some free beer. It's the 'Thank You' – or perhaps in some cases 'Good Riddance' event for the end of the council term hosted by the Deputy Lord Lieutenant of London, Maria Pedro. It's nice down there and it turns out I have met the lady behind the bar but (embarrassingly as ever) forget the circumstances. Someone with no memory for names or faces perhaps shouldn't be a politician, and in three weeks I may be out of my misery!
On Tuesday I go to a Charrette, over in Docklands. I confess that I had never previously heard of a Charrette but one of the LBH officers, who was a presenter there, said it's a common term in California (yeah, would be) though personally I'd call it a seminar, and it's about innovative ideas of how a city may evolve. It's focused on Royal Albert Docks, which are the next (massive) phase of Docklands development, surrounding London City Airport. Lots of wacky ideas and food for thought in what is a brown field site but with enormous room to innovate. Then back to Labour HQ in Chiswick for the 'candidates briefing' where our organiser tells us what's coming up and what we should be doing. Back home to watch the really Mighty Reds marmalising Man City – again (great ref there, that was DEFINITELY offside, or something like that).
Wednesday morning it's to Boston Manor again to inspect the cycle lane which is causing unbridled joy to residents, except about 90% of them, it seems. This is mainly paid for by our chums in TfL and very handsome it looks. It's nearly finished and quite a few cyclists were using it (very nice too, says this one) despite having a JCB and a pile of gravel parked half way up it. A bit of finishing and snagging to do but an excellent and very speedy job by H Highways. Then into the Labour office to pick up our 'election address' leaflet. This is a bit daunting as there is so much of it. Bags fill not only my boot, but the back seat and front passenger seat too – wish I was in one of those puny little wards.
In the evening a pleasant canvass down Lateward Road, joined by my two fellow candidates. It's hard for The Melvinator with his visual impairment and he's still suffering from a dodgy leg following a bad fall but he likes talking to people and they generally enjoy it back. Corinna, by contrast, can talk the hind legs off a donkey, but she meets her match in some of the Lateward Road residents.
So we're round to Thursday, and I'm off to a training course to do with viability assessments in planning law, held near Victoria. On the way to the bus stop, a smart Land Rover pulls up, but I explain to Steve Curran that my mum told me not to speak to strange men, but does he have any sweets? He says no and I say I'm going the other way anyway.
Councillor Guy Lambert
April 13, 2018