A whole lot of door knocking going on

Fundraising at Indian Gymkhana Club
On Thursday evening I briefly attended a meeting of the Thomas Layton Trust. The trust is financially healthy and it's good to see that a very modest investment in tweeting is having the effect of gradually ramping up the reach of its collection, something of which Brentford can be proud. We also hear that a renowned sculptor has offered to donate a bust of Van Gogh to us, and the idea is to put it in Isleworth Library so old Vince can stare across the road at his blue plaque, and eat his heart out because he only has a meagre close named after him, whilst Tommy Layton has TWO full roads, one in Brentford and one in Hounslow.
After this, a dinner at the Indian Gymkhana Club in Osterley. I'd never been there before but apparently the club was set up in 1916 for Indian ex-pats and the ground purchased in 1920 – fascinating (and rather shaming) history. Anyway, the dinner was a fund raiser hosted by Ruth Cadbury and featuring an excellent speech by Yvette Cooper. I had the last winning ticket in the raffle and the only remaining prize was a bottle of red wine mixed with chocolate. Gazing into my crystal ball I foresee another raffle, where one of the prizes is a bottle of red wine mixed with chocolate.
On Friday afternoon we go a-door-knocking down Green Dragon Lane, all the little closes on the railway side of the road plus the hidden Temeraire Place. Being a bit odd like that, I wonder why Temeraire: I know there's a Turner painting, but there are no battleships lurking between the housing co-op and the railway. Google comes up with "Qui est inspiré par une audace extreme" – well, OK, it's a private development but the natives are quite friendly so you don't have to be extremely audacious to enter. Ah, an American novelist has written fantasies called the Temeraire series about an alternative version of Napoleonic Wars, in which the various nations fight with air forces made up of manned dragons. Doesn't say whether they are Green.
Saturday morning I'm out in Turnham Green with our lovely candidates there, walking the 'Tudor estate' next to the North circular. Sadly this means I pass on the opportunity to tour the delights of our friendly neighbourhood sewage farm at Mogden, however, been there, got the T-shirt etc.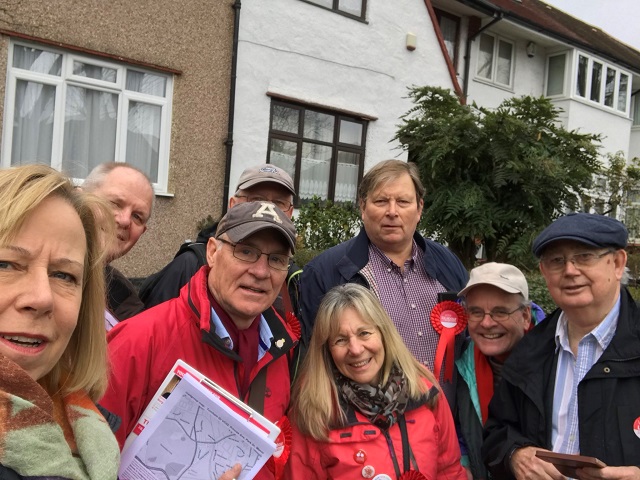 On Sunday I'm back in home territory trying to get in some of the new blocks on Kew Bridge Road. Apparently with all this development Brentford is now the most populous ward in Hounslow, which gives us poor politicians yet more doors to knock on, many of which are guarded by dragons in the shape of concierges (actually concierges are fine, but they have often been instructed to breathe fire on anyone who tries to enter!)
Monday morning it's the Civic Centre for an appeal hearing against a refused licence for manicures etc. It seems to be a fairly innocent mistake, but the lady making the appeal has flouted various rules so we deny her appeal but suggest she comes back after 1 April when new licences start, with an application that is in line with the law. One of my fellow councillors keeps asking about Brazilians but perhaps he's hoping for Sandro to come back to QPR.
Early evening I convey the Melvinator to Ealing Town Hall for a meeting with all the very groovy middle-aged blokes who organise Lovebox and Citadel festivals, coming to a Gunnerbury Park near you in July. They are very confident that the multitudes can be herded to the event from Acton Town station without much trouble but councillors are nervous about the impact of a large 3 day festival in the heart of our ward. We argue for proper notice and consultation with Brentford residents and for their free ticket ballot to embrace all our residents east of Ealing Road, all of whom may be affected by noise if the wind blows in an inconvenient direction. Gunnersbury is jointly owned by Hounslow and Ealing and we have to fight our corner to make sure our ward is properly heard.
We then zoom off to the Civic for the final consultations with Labour group about our manifesto. Lively debates about it, but I think we all come away feeling pretty satisfied with the outcomes.
On Tuesday I think I have a meeting at the Foodbox, having finally got a grip on its bank account following the traditional lost PIN blip, but it turns out I got the date wrong so I'm knocking on the door in vain.
In the afternoon a meeting with Steve Curran and a senior officer about Gunnersbury Park, and how we are going to 'do governance' after the park passes to a new Community Interest Company in April. Really exciting times for Gunnersbury but there are plenty of challenges and we need to make sure we get it right. In the meantime I'm most heartened by hearing from not one but two people who are interested in starting a Friends of Watermans Park group. Come on you Carville Hall lovers – get your skates on, we need volunteers there too.

Wednesday morning dawns damp, so, being a bit of a weather-wimp, rather than taking the trusty cycle down to the Hounslow Bus Garage I catch a 235 (probably more fitting anyway, I suppose). Anyway, we had been invited to gain an understanding of how RATP (really, that name is fine in French) the bus company manages the various routes it controls. I hadn't realised that each route is bid separately so in fact by getting on a 235 I was supporting the opposition in the form of Metroline, not that they held it against me. Anyway, lots of technology is deployed, and we watch as a controller tells a bus to slow down because it's getting a bit close to the one ahead – they never tell a bus to speed up, for obvious reasons. All the buses get an 'MoT' every three weeks, which is reassuring - though Councillor Sam Christie says standards have dipped since her dad retired - and the office has videos playing for the drivers, encouraging them to be courteous, look after wheelchair users, etc etc. I have to say they are not great at watertight depot roofs though.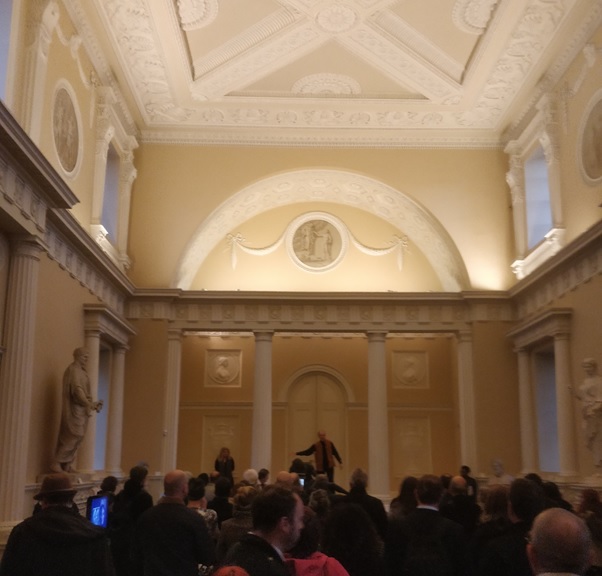 Back to the Watermans for a meeting with a resident with a benefits query, then early evening I cycle down to Syon House for a Pocahontas event. Apparently when she lived in Brentford she was known as Mrs Rebecca Rolfe which, to be fair, is not half so glam. I'm told she visited the Syon House landlord Henry Percy, 9th Earl of Northumberland, whilst he was banged up in the tower because his brother was part of the gunpowder plot, which seems a bit mean. Fortunately I have no brothers and if my sisters are planning any coups I expect they'll warn me so I can make myself scarce.
Councillor Guy Lambert
March 29, 2018