Guy seems to think he can have a week off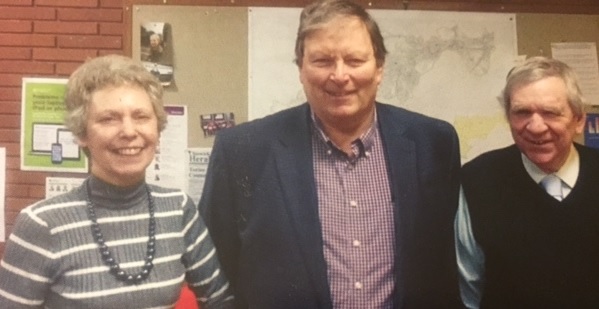 Brentford's three councillors: Myra, Guy and Mel
When Guy became a Brentford Councillor he banged on about doing a weekly blog; go for it, I said, but it's your 'baby'. Well he has passed the 'baby' onto me this week. Missing his Corfu holiday, as he nurses his gout and convalesces in his ivory tower, watching the Thames flow by and still managing to keep an eye on the world that is Brentford!

Which brings me to the world of TV. Exhausted after watching the excellent world class athletics; making my salutary walk with the pooch look almost leisurely, I relaxed by watching a playback of the wonderful Brentford award winning BBC comedy series 'People just do Nothing'. Filmed in Brentford Towers and surrounding areas, it was so close to home, I felt I was in the show. It so represented Brentford in its many guises - humour, entrepreneurship and sheer 'taking the mick'- classic. Well done the Brentford lads who showed their appreciation of the title 'made in Brentford'.
Well that's the fun over, as we move on to the serious side of Brentford, and unfortunately there are a few sorry reports this week. As hard as we Councillors, along with many residents and council officers, try to help make TW8 even greater, there are others who don't. And this week I am going to give the 'Booby' prize to the developers of the Sarah Trimmer school site. Many Brentfordtonians know this building which is listed and a monument to education, as being the first Sunday school in the land. This led the way for the full scale school education system we know today. A planning application granted for building 3 separate apartments has been ignored by the developers, and the site has now become a travesty. The Council's planning team along with Guy, Mel and myself and local residents are on the case, apparently so are Private Eye magazine, but I will leave that to your imagination!
Gunnersbury Park, yes it's the largest public park in Brentford (shared with Ealing)! If you haven't been there you need to go. Just a short trot across the A4 through Carville Park South and across Lionel Rd South junction; millions of pounds have been spent on its renovation through heritage grants. The management is going to be through a CIC (Community Interest Company), and they have upset the locals by applying for licenses to hold events. The nearby locals think too many events and expressed their feelings in attending and submitting to the Licensing Committee a petition and have now launched a campaign to have the event decision overturned. Watch this space...
Today the PR outfit representing the developers of Morrisons, Watermans and the Police station sites submitted their planning application to the Council. Have yet to see the application, but am sure Guy will give you debrief next week. And don't forget Watermans is still up and running, with lots of events for both adults and children over the summer (well supposedly when the rain stops and summer returns!)
Alfa Laval site (that's the one by the A4) with the rather huge advertisement (it's a dog this week. So I'm liking that) except I don't really want a huge illuminated advertisement (which constantly) changes, polluting night light and giving the developer more funds, when they should be fulfilling their original plan of building a business on the site, with jobs and a more attractive arena. But it's been rejected by Planning, and now referred on appeal by the High Court to The Planning Inspectorate in Bristol. Watch this space.
Air Quality! Yes please, we could do with some...there is a public consultation being planned, so make sure you return your thoughts (only clean ones please!)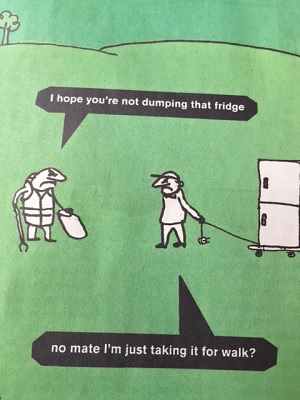 I went out this morning to rescue my wheelie bin off the pavement; they returned the boxes, so that was a plus! Mostly it's working, but we know it's not yet perfect. But we are on the case and we know most people want to recycle, and we do want to help. If only the vans didn't come so early in the morning to my road, I could engage the crews in deep conversation about their feelings and share with them the residents who have been inconvenienced!
I went into our lovely Brentford library recently to borrow a book. Noticed my card was issued 10 years ago and I think that was the last time I used it...am 'ashamed of Brentford'. It was so lovely and friendly and the librarian didn't flinch at my lack of use, plus sitting in the hallowed entrance hall was a group of people knitting and crocheting whilst chatting - charming: see what I mean about Brentford!
Hope to see you at the many events happening in Brentford over the rest of summer - Musical Museum, Kew Bridge Steam Museum (yes I know they changed the name, but I'm old school), Brentford Festival (nearly in Brentford), Boston Manor House & Park - Brentford always giving!
Hopefully the gout will have subsided and Guy will be back in the driving seat of his bicycle making notes to share about Brentford.
Thanks for having me.

Myra
aka Cllr Myra Savin

August 10, 2017