Brentford is brilliantly buggy
My little trip-ette to Berlin was great (if expensive in these pre-brexit days) but the trouble is, once you're a councillor it seems that you can't stop. So I spent too much of the time assessing potholes (not too bad) litter (similar to Brentford, surprisingly) graffiti (they've completely given up, it seems to be everywhere) and people living on the streets (a lot, though probably no worse than central London).
Anyway the food was good, the beer was better, the people friendly even to those whose German amounts to a failed O-Level and the feel of the place very simpatico (don't know how to say that in German- see above). I even did a couple of museums and they were good (but expensive, see above)

I couldn't stop myself dipping in to TW8 and email from time to time but that didn't stop me coming back to quite a backlog. This was not helped by all my lights etc going off, which was eventually traced by an electrician to a dodgy washing machine.

Anyway Tuesday morning we three councillors met again in the grounds of Brentford library. This was really to discuss the refurbishment of the Brentford Monument (for which we've just got S106 funding confirmed) and to update on various traffic issues in Kew Bridge Road. However the library remains a bit of a running sore and I had heard of some planning/traffic notices so we wanted to have a look at them. One of the library staff braved a not particularly chilly but certainly not barmy morning to have a chat with us about various issues, from which we learnt a lot.

In the evening I wasn't needed for licensing so got to attend another meeting of the BASH campaign (Brentford and Hounslow Against Heathrow Expansion) in the Watermans, and a good meeting it was. They will be attending Hounslow High Street on Saturday 11 to 1 and inviting people to the public meeting planned for 21 March. If you get to Hounslow you can have the added attraction of the Labour Party stand reacting to the budget from 1 to 3 (or if you're feeling posher, Chiswick High Road from 10.30 to 12.30). Your fab MP will be there for most of the time and you're entirely safe because I'll be off in North London doing something completely different!

Wednesday Tony Louki and I did an official tour of the sites for the planning committee on Thursday. If you need a haircut, Tony and Guy are available by appointment but I won't vouch either for quality or value. In the afternoon I put on my black suit for a visit down to Hanworth for the SW Middlesex Crematorium Board. Demand seems to be holding up nicely, though that is not good news for some. In the evening, our Labour branch meeting at Isleworth Public Hall. A good discussion about Brexit and what we should do about it. Nearly all of us were remainers and many hope that the tide will turn as the implications of Brexit clarify, but we're also clear that people thought deeply about the EU and many decided to vote to leave. We simply have to respect that and seek to understand their reasons for doing so: when I was in 'trade' we used to say to the sales people "it was for good reason that God supplied you with two ears and one mouth": it's a good lesson for politicians too, and in general, this country has to find a way to heal the deep wound caused by the referendum.

Each of the wards provides a report and I was pleased to dig up a couple of pictures that I think rather capture Brentford, and were first seen (by me) on the forum here: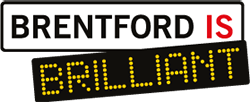 We've been nagging planning to explain what's happening on the small plot on the corner of Ealing Road and the GWR next to the Premier Inn. All they knew was that outline planning permission had been given for offices there, but on Thursday morning we met the developers and their various team members in – spookily enough – the Premier Inn. Yes, they are planning to build an office there, and yes, it will be rather tall (though not out of kilter with its neighbours, or not much!). I think we were all reasonably relaxed about it but were keen to stress we want a really good design that reflects the Golden Mile heritage and the nature of Brentford as well as the buildings around and about (none of us is keen on the Premier Inn) and we want plenty of greenery and trees, please. Not sure when it'll come forward because their thoughts are at an early stage, but it's nice to be consulted before things are set in concrete (or bricks, or steel and glass, or wattle and daub)

In the afternoon I was off to London South Bank University, where even the Elephants live in Castles, apparently, for a seminar on Smart Cities. This was an even mix of councillors and academics of various persuasions and a very interesting afternoon. It was notable that even the tory councillors made no attempt to defend 'right to buy' and the terrible impact it's had on our estates. They did try to defend the cuts in Housing Benefit on the basis that they were supposed to bring rents down but they said they had been introduced cack-handedly and conceded they had been an abject failure. This is NOT what they'll say in public!

In the evening, planning committee. A really gruelling one tonight: a hotel in Feltham (deferred) the proposed move of the concrete recycling yard from Lionel Road in Brentford to the old Western International Market site (also deterred for better environment data/plans) and a small housing development in an infill area in Hounslow (approved) all had people speaking for and against. A few more without speakers but this all kept us there until after 11 despite an uncharacteristically quiet performance from Lefty Lee.
So your councillor is late with his blog but fears the wrath of the editor [quite right too, Ed] so has completed this in the wee small hours of Friday morning.
Guy Lambert
March 10, 2017