Back to normal for the new year
Well, here we are again this sunny Thursday morning. Trump's in his tower, Brexit means Brexit. I suppose you might say that 2017 is likely to be a ride, but whether we end up in WW3, the third world or just muddle along is a question for finer minds than mine.

It's only been a couple of weeks off, but at my age I find the muscles atrophy rather quickly, so I've been working up to a bit of light councilloring and trying to get my blogging boots polished.

You're probably not interested in my holiday and it's none of your business anyway, but I have to fill half a page with summat or other so..

Vienna was surprisingly uncold, but there were plenty of Christmas Markets and odd Austrian punches to keep me occupied. Spent a couple of days in Budapest, which is about a 3 hour drive away. I hadn't been there since before the Berlin wall came a'tumbling down so it was quite a contrast. Streets are full of Mercedes with serious congestion, whereas before there were just a few Trabbies and Dacia Renault 12s. Reasonable restaurants though I didn't notice any bars, and everything still pretty affordable. Some things haven't changed much mind. An hour's wait at the border outside at about -5 degrees to get a tax disc to drive in Hungary (picture of my fellow happy punters below!). They said you could get it in the nice warm Austrian motorway service area with 4 people idling behind the counter but that had been changed to annoy people. As an aside, how come some EU countries happily charge forriners to drive on their roads (Austria does too) whilst the UK only ever moaned about it?
Anyway, it was very cold in Budapest, with the roads framed by frost laden trees: very picturesque and no snow to turn to slush or cause problems for drivers.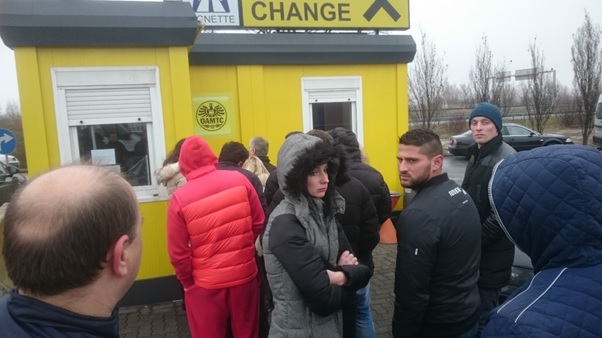 Back to blighty for the New Year, starting off with a Hounslow Cycling Dinner at La Cuisine in Isleworth. Good food and good company and a wobble home through dark old Syon Park. A quiet New Year's Eve (I hope nobody is going to suggest I'm getting old) was followed by a rather mad New Year's Day, out in the rain all day taking part on the New Year's Day Parade with Hounslow Cycling. Piccadilly never looked so wet and despite a very fetching poncho provided by the organisers I was moved to remark that I now understand the French expression 'trempé jusqu'aux os' which translates as drenched to the bones.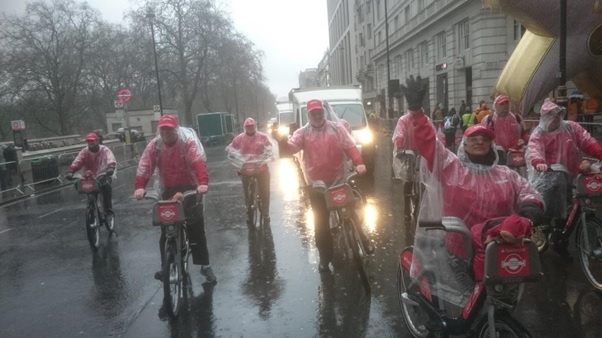 Having dried out for a beautiful day on Monday, I get a call from Her Formerly Worshipful One who tells me York Road is obscured by smoke. Looking out from my balcony I see a black cloud drifting and it seems there is a fire in a recycling outfit near the canal in Osterley Ward – but right on the borders of Brentford (I'm going to build a wall, and Osterley are going to pay for it). So I go up to Transport Avenue, where the cops won't let my cycle into the road, even though they claim the fire is under control. I attempt to cycle towards the ramp for the towpath but receive a sharp 'Oi'. I point out that other people are on it and am told that they shouldn't be. Naughty boy that I am, I therefore cycle back to the High St and enter the towpath there and follow it (together with about 50 others) up to the lock, where the firefighters are dipping a hose in the canal to get extra water, but are quite unconcerned, and to the footbridge where I get a spooky picture of a man with a hose trying to empty our canal.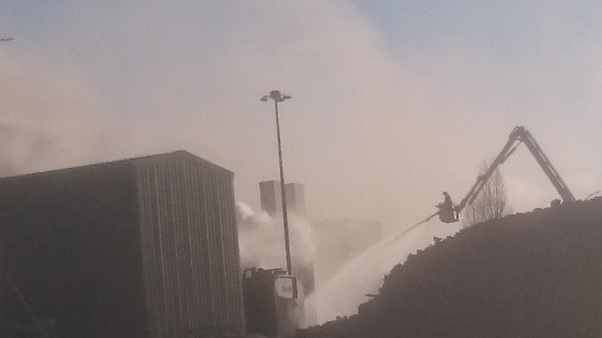 So we come to Tuesday and it's back to a bit of councilloring. Trying to catch up with emails and remind myself of the burning issues that I left to cook over the holiday. In the evening, a Licensing panel for a banqueting hall in Hounslow West, which we approve, with various conditions. Wednesday I spend most of the day at my daughter's flat waiting for British Gas to come and change the prepayment meters for credit ones, which they eventually do. This gets her out of one bit of the poverty premium which could cost >£200 per annum. I am happy that she knows if she needs to borrow money she can join www.thamesbank.org and save the £540 far too many poor people pay to doorstep lenders because mainstream credit won't work with them – not that, as a teacher, she's particularly poor even though teaching salaries are pretty cheeseparing. In the evening, plotting with Labour party colleagues how we can work to save people from rapidly increasing poverty – it'll take until 2020 to get properly started, but perhaps we can dissuade the government from a few more of their pernicious policies in the meantime (I've always been a glass half full type!)
Guy Lambert
January 5, 2017