Meetings, Clayponds and the dangers of doorknocking
So the area forum was somewhat as expected, a(nother) full and frank exchange of views about Church Street closure and some major concerns about the proposed developments in Layton Road, namely the Floreat school and housing developments. This evening (Thursday) we have the pre-planning presentation at the Civic Centre (all welcome, though only councillors can ask questions). For the avoidance of doubt, the Civic Centre is still operational and will remain so until 2018 when the council will relocate to a car park in central Hounslow. Officers and members are hoping that it will no longer be a car park when the relocation takes place so fingers crossed.

On Friday, a trip in the balmy Indian summer to Clayponds to meet with a collection of residents, neighbourhood Police, estate police, caretakers, housing officers, enforcement team and Uncle Mel Cobbley and all. Unfortunately that Indian Summer person had let us down so we huddled under umbrellas and the canopy of Clayponds Community Centre. We were discussing how to improve what is very close to being a really nice estate, but which has problems with litter, grounds maintenance, anti-social behaviour: nothing dreadful, but the sort of thing where a small improvement would really boost people's experience. It was great to have such a good turnout and everybody is keen to make a difference but as ever, magic wands are hard to find. We agreed to meet again in a few months time and this reminds me I didn't write to record actions and thank everybody for their attendance and positive approach. One of life's little mysteries is that the green on the estate is clearly in Hounslow but Hounslow don't mow it. Some mysterious agency mows it on our behalf – we suspect the dastardly Ealing council, probably sneaking in under cover of darkness.

In the evening, up to Lionel Road North for a door knocking session accompanied by Ruth Cadbury and some local activists. Lionel Road North has very long front gardens so door knocking there is good for general fitness and we were rather amazed to cover the whole road in two hours. I never fancy knocking here because in a previous life, probably last year's General Election campaign, I flattened myself over someone's cunningly disguised step on their front garden path. This caused actual blood to flow from my knee, but more importantly it destroyed my favourite pink trousers so if you see me in dreary beige or black strides, blame Lionel Road. People's main concerns were fly tipping – apparently Lionel Road has been used as a dump for 20 years or more – and noisy teenagers in the park in the evenings. The same issue is around in St Paul's Rec and neighbours find it disturbing. We are trying to improve matters via local police and the council's new Parkguard service.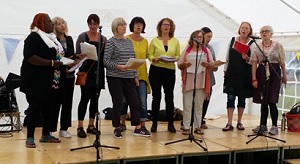 Sunday was punctuated by a brief visit to Hot Dogs and Cool Dogs at St Paul's Rec ground. I stayed to watch the superb Brentford Belles who sounded as good as they looked. After that it was the judging for 'prettiest female' but I thought any dog show was going to be downhill after the Belles!

Monday was the usual catching up (or not), a session at the Labour Party office where occasionally we get a lost Chiswicker in search of a councillor (yes, there was one this week) and in the evening the monthly credit union board. We agreed a special offer with extra attractive interest rates for larger loans so if anybody wants a good deal from a local cooperative, join www.thamesbank.org while stocks last! Tuesday daytime was more credit union – a seminar about how to encourage businesses to work with the Credit Union on behalf of their employees (local bosses – it costs nothing and helps you have a happy, productive workforce!). I was due a licensing panel in the evening but either it got cancelled or I was not called upon (not all panel members are called for all sessions) so I was forced to go to the gym to get fit ready for the rigours of the Labour Conference, which takes place in me ole home town of Liverpool over the weekend. I have never been to conference before and some would argue that this is not the best one to cut your teeth on, to which I retort, at least it won't be boring!

Anyway, need to catch up with correspondence this afternoon and dig out my bucket and spade in case I get a few minutes on New Brighton's exotic beach at the weekend. Double booked this evening for Audit Committee and the pre planning meeting for Floreat school and a hotel in suburban Feltham.

With a bit of luck, I'll survive both the evening and my weekend of high politics and (no doubt) high alcohol consumption and report back next week.
Guy Lambert
September 23, 2016