Councillor Matt Harmer's January update
This is the first edition in about a thousand years and thanks to everyone – both of you – who asked if they had fallen off the distribution list. I was going to send this about ten days ago because nothing says Christmas quite like an email about parking schemes, planning applications and dog mess but I have been out and about enjoying the, er, glorious weather. Welcome, also, to some new readers – you can relive the past few years at mattharmer.com

* CPZ *
So, for old times' sake, let's start with CPZs (Controlled Parking Zones for new readers). The latest on this is that we are asking residents on some of the roads around Griffin Park if they'd like to have one. I know the reaction will be a mixture of 'They won't give up' and 'About time too'. Here's the story – we consulted on this three years ago, most roads said 'no thanks' and we went away. Then a couple of petitions arrived asking us to ask again. So we did. This time, New Rd, Braemar Rd and Brook Road South said they wanted to be in a CPZ, as did Clifden Road and Lateward Road. Other roads – Ealing Rd, Grosvenor Rd, Mafeking Av, St Paul's Rd, Windmill Rd and Wilkes Rd said 'No'. Here are those results in full: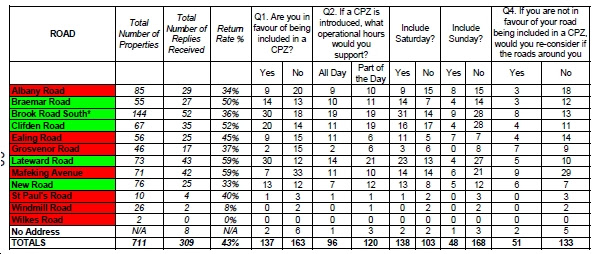 So what we've decided to do is do more detailed design work on the roads that said 'Yes' and let the roads that said 'No' know what is happening. Yes, more consultation. I should state at this point that I haven't been part of any of these decisions and have left meetings that have discussed or made decisions on this issue. That's because I live on Ealing Road. It sometimes feels strange and frustrating that when there's an issue that one has personal knowledge and experience of, one has to leave the room but in this case it's obviously the right thing to do.

One gratifying thing was the high response rate, and there's plenty more to do on this. I think that we can sometimes spend more time taking a close look at the responses. It's been suggested that we only ask people with cars and don't ask people with off-street parking. I disagree with both these points, but can see the argument. Anyway, as always your views are welcome. I can't promise to make everyone happy but will try to explain the decision-making process and answer any particular points of interest.

And for residents of Popes Lane and Lionel Road, your views on Ealing's proposal for a CPZ on roads north of Popes Lane – and the northern half of Popes Lane – would be very welcome. Let me know any views you have. I can't guarantee that Ealing Council will listen to what we say, but we will put your responses forward.

Oh, and one other thing to do with parking that may be of interest. We are close to being able to allocate particular parking places for people with Blue Badges. At the moment we have marked spaces limited to Blue Badge holders, but people who have Blue Badges also like to park near stations and, in some cases, are preventing residents from using spaces outside their properties. This sounds like a simple thing to do but the administrative hoops that we need to go through are, as almost anything concerning traffic, roads and parking, much more extreme than you would ever believe.
* A4 *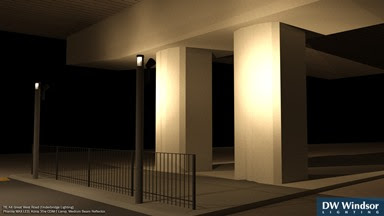 Time now for an A4 update. Transport for London have made it clear that they don't plan to extend the time available to cross the road at the pedestrian crossings. However some work has ben done and will be done to the lights and the road markings and a couple of recent test drives up and down do seem to indicate that some of the repairs to things like the filters on the lights have made a small decision. We've been told that there'll be changes to what traffic going up/down Windmill Road can do at the A4 junction and my fellow councillors Ruth Cadbury and Mel Collins are asking for more info on this. I'm waiting for confirmation of the next meeting with TfL and your thoughts on what they need to know are always welcome.

In advance of the meeting I've been sent some computer-generated images of suggestions on how lighting could be improved. It's long been a concern of mine that it's grim enough waiting for a green man under the M4 at the best of times but when it's dark – as it is pretty much all the time at the moment – it's really not a nice place to be. The ideas are interesting, though it concerns me that the lighting might be more of an attempt to illuminate the concrete structures for the pleasure of passing drivers rather than providing some illumination for anyone waiting to, you know, cross the road. Anyway, we seem to be getting somewhere, even if it is at a slower pace than we would like.

* Planning *
There's a couple of planning things to catch up on. We've experienced the frustrations of what we want to happen versus what actually does happen recently. Earlier this year, councillors voted to refuse an application to enlarge a property in Clifden Road following protests from local residents. However, the independent Planning Inspectorate decided that councillors were wrong to do this and the extension should go ahead. Nearby, some trees on the land between Hamilton Road and the railway line seem to have been removed without the necessary permission. We'll be doing what we can to see that they are replaced – this has to happen in the Spring. Frankly, we'd like to do more on what appears to be an attempt to ready an area of land for a planning application, following a couple of refusals locally (both backed up, happily, by the Planning Inspector). We get a list weekly of new applications and are told if applications are likely to be approved or refused by the council without councillor involvement. If we think that they merit further examination or residents tell us that they don't like the decision that is being made we can refer the application to a planning committee of councillors. This happened on both the applications described above and on both occasions councillors made a decision that was backed by residents. This isn't always the case – the application for two houses in Brook Road South on the former garage site is an example of this – but it's right that the discussions and decisions are held in public.

A couple of major applications are worthy of mention. Firstly, the application to rebuild the area to the south of Brentford High Street has been postponed until the summer pending further work on the transport implications of the scheme. Given how long this has taken so far, I suppose a few more months is something that we can live with. Secondly, the application to build a new stadium for Brentford FC on the Lionel Road site along with development of up to 910 flats was approved. I attended the planning committee meeting that approved this application along with a number of supporters and objectors. I hope that all parties feel that the matter was discussed properly regardless of how they feel about the application. There's still lots to do on this application, not least sorting out the final design of the flats that will be developed to help pay for the stadium.

Attention will now turn to the future of the Griffin Park site and I'm told that we should start hearing more about this later in 2014. My interest in this will be purely as a local resident as I decided last year not to offer myself to Labour Party members as a candidate in this May's council elections. That's not because the football club situation has been resolved, but given that it was concern about the club's decision to move to Woking and build houses on Griffin Park that got me interested in how decisions of this kind are made it does seem that it marks a suitable place to bow out. Who replaces me is, of course, up to all those registered to vote in Brentford ward but I hope you will understand if take the opportunity to introduce Myra Savin to what we are calling, for the time being, a Labour action team. Anyway, Myra has recently taken retirement from the NHS, lives in York Road and is generally a star. You'll be hearing plenty more about her, I'm sure.

* Can I help? *

Finally, please get in touch if you think I can help, either by emailing matt@mattharmer.com or calling 020 8560 7033. In the meantime, thanks for reading.


My mailing address is:
Matt Harmer
153 Ealing Rd
Brentford, Middlesex TW8 0LF

My telephone:
020 8560 7033

January 13, 2014