Veteran calls for more respect for War Memorials
Dedications to Brentford's war dead in disrepair
As Remembrance Day approaches, a Brentford based veteran of the Suez campaign is renewing efforts to bring back to the area the memorials to the area's war victims.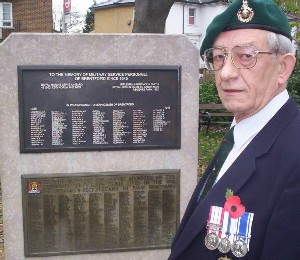 Brian Briers at the memorial garden outside Brentford Library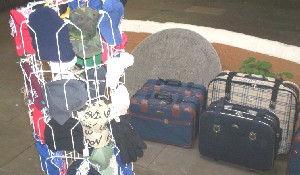 The memorial from the old Brentford Market, now at WIM
Former Royal Marine Brian Briers has been campaigning to bring all the memorials to one place - the front of Brentford Library on Boston Manor Road. He succeeded in bringing memorials from the old Gasworks site in Brentford back to the area when plans were announced to melt them for scrap in the 1990s.
He has now turned his attention to other memorials. The marble stones outside the derelict St Lawrence's Church in the High Street were supposed to be moved to the library in 1998. Plans were agreed but problems with the site's owners meant that no progress was made. However, Briers sees the recent sale of the Church and its site - to undisclosed buyers - as an opportunity to bring the memorial to the First World War dead of West Brentford to the site originally left for it outside the library.
The memorial is now in a poor state, with partschipped away and other sections loose. "The plans were agreed back in 1998, but nothing happened" he told www.brentfordTW8.com. "I hope that the new owners will be able to cooperate with CiP and Hounslow Council to move this important dedication to heroes of Brentford's past".
Another set of memorials are languishing in the dark, miles away from Brentford, and Brian is also determined to bring them home. The memorials originally sat at Brentford Market, on the site of the Fountain Leisure Centre near Kew Bridge.
They were moved in 1974 when the market relocated to the Western International Market in Hillingdon. They can now be found at the back of the market, near a shop selling "designer" luggage and football hats.

The lettering on the memorials, commemorating market workers and others who died in two world wars, has faded and there is no acknowledgment as to what the memorials are or where they originally came from.

Briers, who served in Cyprus and was injured in the Suez campaign, is calling for the stones to be bought back to Brentford. "The soldiers remembered on the stones made the ultimate sacrifice. Their names should be allowed to live on - for this to happen we need to treasure the memorials in a site open to everybody".



The St Lawrence's Church memorial

Armies march on Turnham Green and Brentford
The Brentford Remembrance Day ceremony takes place outside Brentford Library this Sunday at 11am.
6 Nov 2004
Become a member of BrentfordTW8.com - it's free
Comment on this story on the