Try a guided tour with commentary at a jog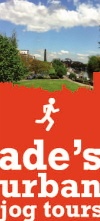 Starting and ending at Kew Bridge Station (meet at the entrance on Kew Bridge Road), the 10 kilometer (6 mile) jog tour will combine a story of Brentford's urban development with a decent cardiovascular workout.
The tour will give you a snap shot of Brentford and how its urban fabric is changing. It will take in Watermans Park, its major waterways (The River Thames and Grand Union Canal) and former dock areas to the 'Golden Mile' and community and cultural spaces.
The tour will explore the opportunities, thrown up by the juxtaposition of old, new and planned development: the re-use of Victorian public works; aspirational riverside residential development; high rise modernist council housing alongside Victorian railway terraces.
The jog will be at an easy-going pace. There will be regular pauses along the route to rest, stretch and to talk about what you've seen or about to see. If you're comfortable running 10 to 12 minute miles then please come and join in! The tour, with a warm up, cool down and regular pauses, will last up to 2 hours.
At the end of the tour, please feel free to relax and buy refreshments and food at the Strand Café (109 Strand-On-The-Green, W4 3NQ), where you will chat and reflect on what you've seen. Showers are available, at the cost of an adult swim, at the Brentford Fountain Leisure Centre . Both are close by to Kew Bridge Railway Station.
There are only 14 places per tour, so if you'd like to join it, please contact Ade using ade@ade-aboaba.com.
Brentford Urban Jog Tour dates include:
Saturday 18th August 11am to 1pm - £19.11 per person – book in advance with Ade
July 26, 2012