Ryan Peters and Josh Hinckson joined Sir Vincent Fean and Leon Rosselson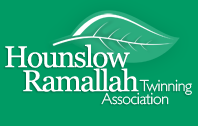 Committee Room 1 at Hounslow's Civic Centre played host to a 40-strong gathering on Friday 10th October - all coming together for the Hounslow-Ramallah Twinning Association's Annual General Meeting, which this year combined formal business with fascinating talks and entertainment.
Amongst members old and new, those present included Mayor of Hounslow Councillor Corinna Smart (who is also HRTA's joint Honorary President), senior Councillors Ruth Cadbury and Bob Whatley (both members), representatives of Hanwell Friends of Sabastiya (joint members), and visitors from as far afield as Germany. HRTA supporter and local MP Seema Malhotra, unable to attend due to parliamentary commitments, sent her good wishes.
Attendees enjoyed exotic snacks and refreshments and listened intently as Chair Alison Wernberg-Møller steered the meeting through the necessary formal business. A Committee Report outlining the past year's activities and achievements was presented and a new HRTA Committee was elected, leaving the remainder of the evening free for special guests.
First to take the stage was Sir Vincent Fean, British Consul General in Jerusalem from 2010-14. Sir Vincent gave a very interesting and informative talk about UK-Palestine friendship links and his views on the way forward for Palestine, all informed by his experience as a long-serving diplomat. The talk was followed by an earnest question-and-answer session exploring issues relating to future regional developments at the political level, as well as the role of the British Consulate-General and British Council in facilitating people-to-people links.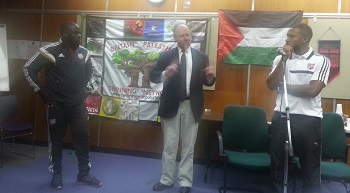 After a recap of the Twinning Association's long-term endeavours to build links between Brentford FC and football in Palestine, the Chair introduced Josh Hinckson, coach with Brentford FC's Academy, and Ryan Peters, Brentford player from 2004-08 and coach with Brentford FC's Community Sports Trust. Josh and Ryan presented a fascinating account of their HRTA-enabled footballing visit to Ramallah-al-Bireh and the West Bank in the early summer of 2014. The enthused audience followed up with questions relating to practical issues of visiting the West Bank, the level of football skills encountered by the two coaches, and aspirations of further developing the links now established between Brentford FC and Palestine.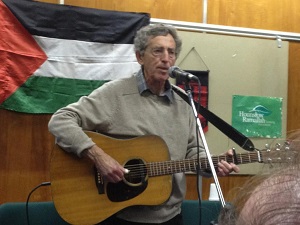 The final special guest, and the cultural highlight of the evening, was acclaimed folk-musician Leon Rosselson who has been active as a satirical singer & songwriter for over fifty years. Leon treated the audience to a 40-minute selection of his songs, a number of which related to the Jewish experience and the Palestinian experience, including 'Song of the Olive Tree' and 'The Ballad of Rivka and Mohammad'. His performance, with its poignant themes, was met with a most appreciative response.
The evening was a great success. It illustrated how well the Twinning Association has done over the past five years in reviving the historic link between Hounslow and Ramallah-al-Bireh; raising its profile and firmly establishing the relationship in the public consciousness, locally, nationally and overseas.
November 6, 2014