On a tour supported by Palestinian FA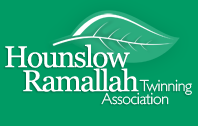 Coaches representing Brentford Football Club have recently returned from an exciting work placement.
Josh Hinckson, who works in the Club's Academy, and Ryan Peters, who played for The Bees between 2004 and 2008 and now works for Brentford FC Community Sports Trust, went on a nine-day placement in Palestine.
The pair shared their expertise and learning a different way of life during the visit, which began last Friday, May 9, and ends on Saturday, May 17.
The London Borough of Hounslow has been officially twinned with Ramallah al-Bireh in the Palestinian West Bank for over 25 years, an important city and home to the headquarters of the Palestine Football Association.
Hounslow-Ramallah Twinning Association represents the unique relationship, promoting friendship between the two communities through educational, cultural and recreational exchanges. Projects have included helping to set up links between schools, welcoming the Palestinian Olympic team to Hounslow in 2012, and receiving the Mayor of Ramallah when he visited the Borough last year.
Helping Brentford Football Club to form meaningful links with football in Palestine has been a longstanding ambition, and a project which both the Community Sports Trust and the Club have been very supportive of. Mark Devlin, Brentford FC Chief Executive, came to HRTA's Football and Falafel evening last October where he saw State of Play, a short film made by Philosophy Football in Palestine during Euro 2013, UEFA's Under-21 Championship tournament, and he promptly pledged to do what he could to help the football project.
HRTA's recent discussions with the Palestine FA have resulted in an exciting opportunity for two coaches from Brentford to travel to Palestine and experience football in Ramallah al-Bireh and other parts of the West Bank.
Ryan and Josh both volunteered for an experience they won't forget. They will be doing some hands-on coaching and visiting and taking part in football from grassroots to professional level, as well as taking in some matches of the international five-nation Nakba tournament.
Aun Qurashi, HRTA Secretary, said: "We're delighted to have helped make this visit happen. We see it as the first step in creating what we hope will be mutually beneficial and enduring ties between Brentford and football in Palestine."
Mark Devlin said: "We were asked by Hounslow-Ramallah Twinning Association to get involved and were delighted to do what we could to help. It is a great opportunity for staff to visit Palestine, develop their skills and knowledge and spread the good name of Brentford FC."
Ose Aibangee, Brentford FC Academy Director, added: "Josh was keen to go on the placement and it was a great opportunity for him. He can represent the Club and show how we work. It is also an opportunity for him to learn while he is out there and he may be able to bring back things we can use."
Lee Doyle, Brentford FC Community Sports Trust Chief Executive, said: "The Hounslow-Ramallah Twinning Association and the Palestine FA have created a unique cultural opportunity for coaches from the Trust and Academy. We envisage that this will help to build a new sport and education project taking place locally and overseas."
Read Ryan's diary of his visit.
May 23, 2014