A Vist from Ramallah bearing Gifts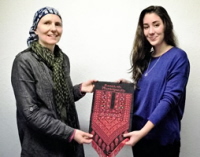 Committee members of the Hounslow-Ramallah Twinning Association met with Julia Daley (pictured on right, with Alison Wenberg-Moller, Chair of HRTA) from the International Relations department at Ramallah Municipality on her visit to London.
It was a wonderful opportunity to talk in person with one of our contacts in Ramallah, discussing current projects that both our communities are involved in, as well as ideas for exciting new projects.
Julia not only brought along some very informative literature about Ramallah Municipality, but also presented HRTA with a beautifully embroidered pennant, which was a gift from the Mayor of Ramallah, Janet Michael.
HRTA were delighted to meet Julia and are looking forward to further developing the links between our two communities.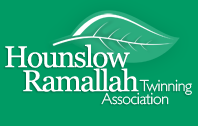 The website can be found at www.hounslow-ramallah.org .
Current projects include helping secondary schools in the Borough to find a partner school with the help of HRTA's counterparts in Ramallah Municipality; a football exchange project with Brentford FC; and a short film project called 'Postcard from Hounslow'.
For more information or to join the Association, e-mail Aun Qurashi, secretary@hounslow-ramallah.org
January 13, 2012