Petition to help save part of Britain's cinematic heritage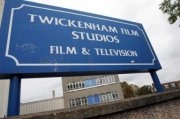 Twickenham Film studios has gone into administration and word has it that property developers are moving in.
The renowned studio, which was due to celebrate its centenary next year, will be wound down between now and June.
Gerald Krasner, who is handling the administration, said the business had lost money over the past three years.
"I doubt it will be retained as a film studio," he said. Half of the 17 employees have already left.
The remainder are working their notice, Mr Krasner added.
"We are selling it on," he told the BBC News website. "Everyone will then be paid in full."
Please sign the petition.
Twickenham has been at the forefront of the British film industry for 99 years - let's help it make to 100 and beyond.
Films like The Iron Lady, War Horse, Ghandi, Italian Job, Shirley Valentine, Help, A Hard Day's Night, An American Werewolf in London and many many more have been made here. It's a National Treasure!!
Save Twickenham Studios (on facebook)
March 15, 2012