Jon Hardy describes his epic bike ride to Save the Tropical Zoo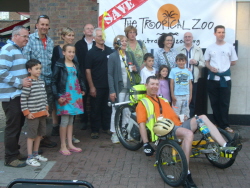 A big 'THANK YOU' to all of you who supported the Bristol – Brentford trike ride on Saturday 17th, by pledging donations or by helping out.
Setting off from Bristol at midnight knowing that I had at least 7 hours on my own in the dark was quite daunting but I soon settled into a steady rhythm and before long I was riding through a floodlit Bath. After that I faced my first big challenge: Box Hill. I paused at a fork in the road at the village of Box debating whether to go around the hill via Melksham (14.5 miles to Chippenham) or straight up it (7.2 miles to Chippenham) In the end I decided on the more direct route – simply to see if I could hack it – and when I reached the summit after an hour and a half spinning in low gear I felt like the the Little Engine That Could.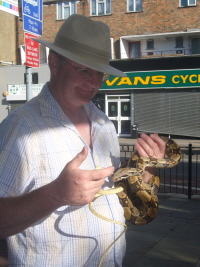 However, Box Hill was followed by the equally steep Derry Hill and then the aptly named Labour-in-Vain Hill and interspersed by a heavy and persistant deluge of rain at 5pm that saturated me to the skin. The hills and the rain took their toll and by the time I limped into Marlborough at 7:50am for my first 'pitstop' with my long-suffering wife, I was exhausted, wet and suffering from hypothermia with still around 70 miles to go.
However, with dry clothes, tea and scrambled egg on toast I rolled out an hour and a half later towards Hungerford. The slight downward route through the Savernake Forest and the rising sun combined with rising energy levels boosted my confidence that I could do the ride and I made Hungerford and then Newbury in a decent time.
From Newbury it was on to Reading, where a lack of signage for the A4 meant two circuits of the town centre (all you need when you've just done around 80 miles) before two off-duty bus-drivers who gave me directions for a mainly flat route towards Twyford. From there it was familiar ground through Windsor, Runneymede and Staines to Hounslow. A final pitstop at Bedfont Green and then ontowards Hounslow – never before have I totally appreciated how long this Borough actually is – a mere 6 miles but throw in tiredness and every traffic light being red…. Finally –I was never so glad to see Brentford! – I crossed the line at 20:25:41.
It was only after that I realised how close I came to not making it: the trike had performed brilliantly but on Monday following I went out for a ride and noticed there was very little tread left on the front wheels and then after about 3 miles that I could see the canvass backing. As I turned into my home-street there was a loud pop as 100psi of air and liquid latex spurted out through the burst in the off-side tyre: close call.
And the Winners (who were closest to my actual time were: (highlighted in yellow:

20:17:48

Laura Sinfield

diff:

00:07:53

20:18:07

Deepika-reazario

00:07:34

20:20:00

James Hall

00:05:41

20:20:10

Gresswell

00:05:31

20:20:19

Hany

00:05:22

20:20:20

J Slade

00:05:21

actual time

20:25:41

diff

20:30:00

Hani Husseir

00:04:19

1st place

20:30:02

Barry Wise

00:04:21

2nd place

20:30:10

Wilhelmina Kudhail

00:04:29

3rd place

20:30:11

Tom Brown

00:04:30

4th place

20:30:15

Jennifer Johnston

00:04:34

5th place

20:30:30

Dave Rod

00:04:49

6th place

20:30:30

C Diwell

00:04:49

6th place
But this story is not over: the Tropical Zoo still needs your support. We raised nearly £2000 on this event but the appeal goes on. It may seem like a lot that we are trying to raise - £350,000 is a lot – but it breaks down to just £1.50 per person in Hounslow . So please help us keep this valuable resource in Hounslow by donating at least that amount via the JustGiving site:
Thanks again,
Jon
July 29, 2010