Were you there? Do you remember it?
Research Project on Working Women and the Labour Movement during the 1970s: The Trico Folberth Equal Pay Strike, Brentford, 1976.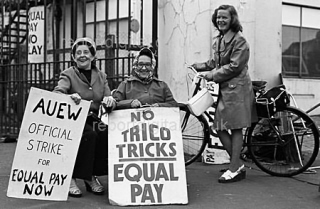 In 1976, one of the most important and far- reaching equal pay strikes in British history was successfully won at the Trico-Folberth windscreen wiper factory in Brentford. It began on the 24th May 1976 when all 350 women workers in the factory walked out after the management refused to eliminate the £6 differential between male and female wages, despite the implementation of the Equal Pay and Sex Discrimination acts the year before. Initially the women were ignored by both the management and male workers inside the factory. However the women persevered and organised a round the clock picket of the factory that resisted numerous attempts from the management to break the strike and lead to violence and clashes with police as the women refused to let trucks and coaches with strike breakers passed the picket line. This gained the women publicity and they began to send contingents around the country to attract financial support for their campaign and to organise the blacking of Trico products. The management attempted to resolve the situation through an industrial tribunal, which was ignored by the women due to the lack of success other women workers had achieved this way.
After a record breaking 21 weeks, it was announced on Friday October 15th at a mass meeting that the Strike Committee and union officials had negotiated a return to work with the employers conceding all demands and establishing a common payment by results wage, regardless of sex. This marked an important victory for female workers across Britain and placed the question of sexual inequality for working women firmly in the public eye. They served as an inspiration to women from all backgrounds across the country to stand up and challenge their status as second-class citizens, which has left a lasting legacy to this day.
I am currently carrying out research on the 1976 Trico strike as part of a wider research project at the University of Glasgow, which is investigating the history of working women and the labour movement during the 1970s. I would love to hear from women and men who worked at Trico and took part in the equal pay strike. I would be happy to speak to people individually or in groups.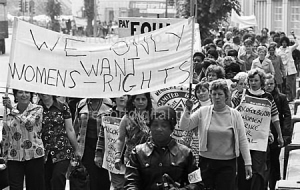 For anyone who is interested in speaking to me, or finding out further information about my research, please contact me at
Jonathan Moss
Room 407
2 University Gardens
Glasgow
G12 8QQ
Or by email at J.Moss.1@research.gla.ac.uk
November 5, 2012