Consultation on extending 235 bus service to Great West Quarter
Transport for London (TfL) is seeking the views of local residents about the proposed changes to bus route 235 that would enhance services to the Great West Quarter Development (GWQ) in Brentford.
The route 235 currently runs between Sunbury Village and Brentford County Court but, under proposals discussed with the London Borough of Hounslow, it would be rerouted along Brentford High Street and Ealing Road to GWQ.
At GWQ, which is located on the corner of Ealing Road and the A4, a new standing facility will be installed.
The route would continue to operate approximately every eight minutes during the day and every 12 minutes during the evenings and on Sundays.
If the proposed changes are introduced, the route would no longer serve Back Lane, St. Paul's Road and Half Acre Lane in Brentford but nearby stops are available on the high street.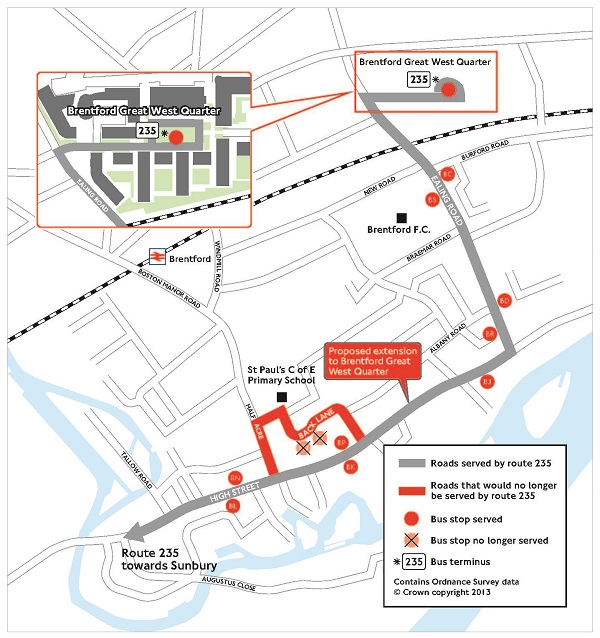 TfL would like to know the views of local residents, who can respond to the consultation online at https://consultations.tfl.gov.uk/buses/route-235 or by email at STEngagement@tfl.gov.uk
Peter Bradley, Head of Consultation Delivery at TfL, said: 'We believe these changes will benefit local bus passengers by providing new direct links to Isleworth and Hounslow as well as a number of local secondary schools. We would like to know the local community's views before making a decision about whether to go ahead with the change.'
The consultation will be open between 4 July and 9 August 2013.
July 5, 2013